3 IN 1: SANDING, POLISHING, DETAILING
Regular price
Sale price
€24,59
Unit price
per
Sale
Sold out
In stock
Factory-direct Prices

30-Day Money Back

Fast Flat Shipping
Wet/Dry Clearcoat Sanding, Save Your Paint Work.
• 3D pyramid abrasive structure
• Fast cutting, uniform finish, no over-sanding
• Durable Silicon Carbide, ideal for polishing
• Flexible foam to distribute pressure evenly
• Hook-and-loop system, easy to change out
• Soft and comfortable while sanding and polishing
• Reduce time on compounding and waxing
• Ideal for wet/dry car sanding, polishing, finishing 
TECHNICAL DETAILS

Model: FF19 Flexpro Fine Finishing Foam Discs
Size: 75mm (3") + 3mm foam pad
Grain: Silicon Carbide Minerals
Construction: Precisely-shaped pyramids Distributed evenly on foam
Backing: Flexible Foam
Perforation: No Hole, Ideal for Wet Sanding
Color: Grey/Blue
Fastening: Hook-and-loop for sanders and hand tools
Grit Options: P2000, P2500, P3000, P5000
Quantity Per Box: 15 pieces
PACKING & EAN CODE

Quantity: 15 pieces per box
Box Size: 85x85x60mm
Net Weight: 35g
Gross Weight: 45g

EAN Numbers of 150mm Flexpro Foam Discs:
EAN: 6190751510010 (Grit: P2000)
EAN: 6190751510027 (Grit: P2500)
EAN: 6190751510034 (Grit: P3000)
EAN: 6190751510041 (Grit: P5000)
SHIPPING INFORMATION

The shipping and delivery of fastplus.eu will cover the following EU countries and regions:

Domestic delivery (Germany)
Main EU countries: Belgium, Denmark, France, Italy, Netherlands, Poland, Portugal, Sweden, Spain, Czech Republic, Austria, Switzerland

Shipping Costs will be calculated at checkout.

Delivery times
Unless a different period is specified in the respective offer, the goods are delivered domestically (Germany) within 3 - 5 business days, for deliveries abroad within 4 - 10 business days after the conclusion of the contract.
View full details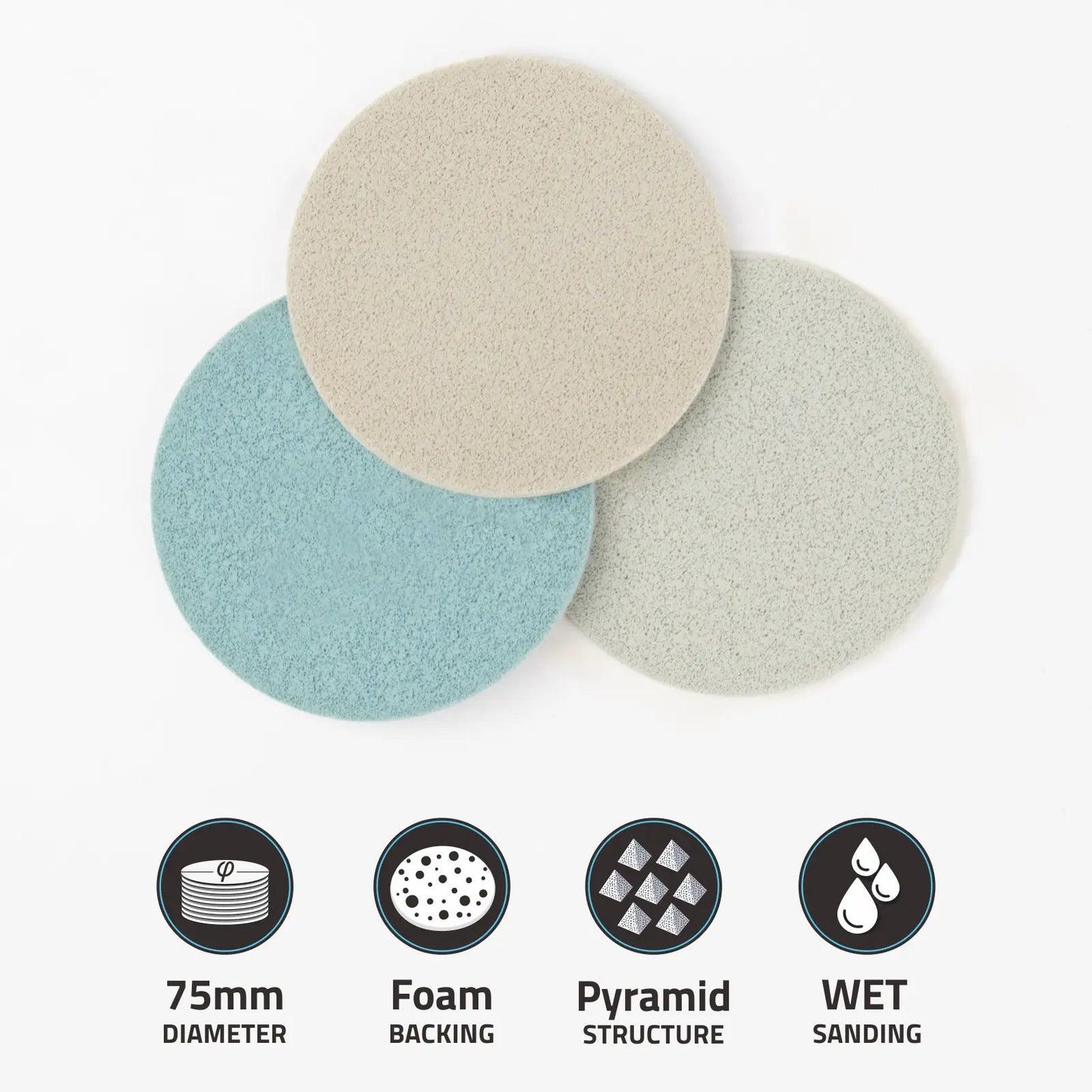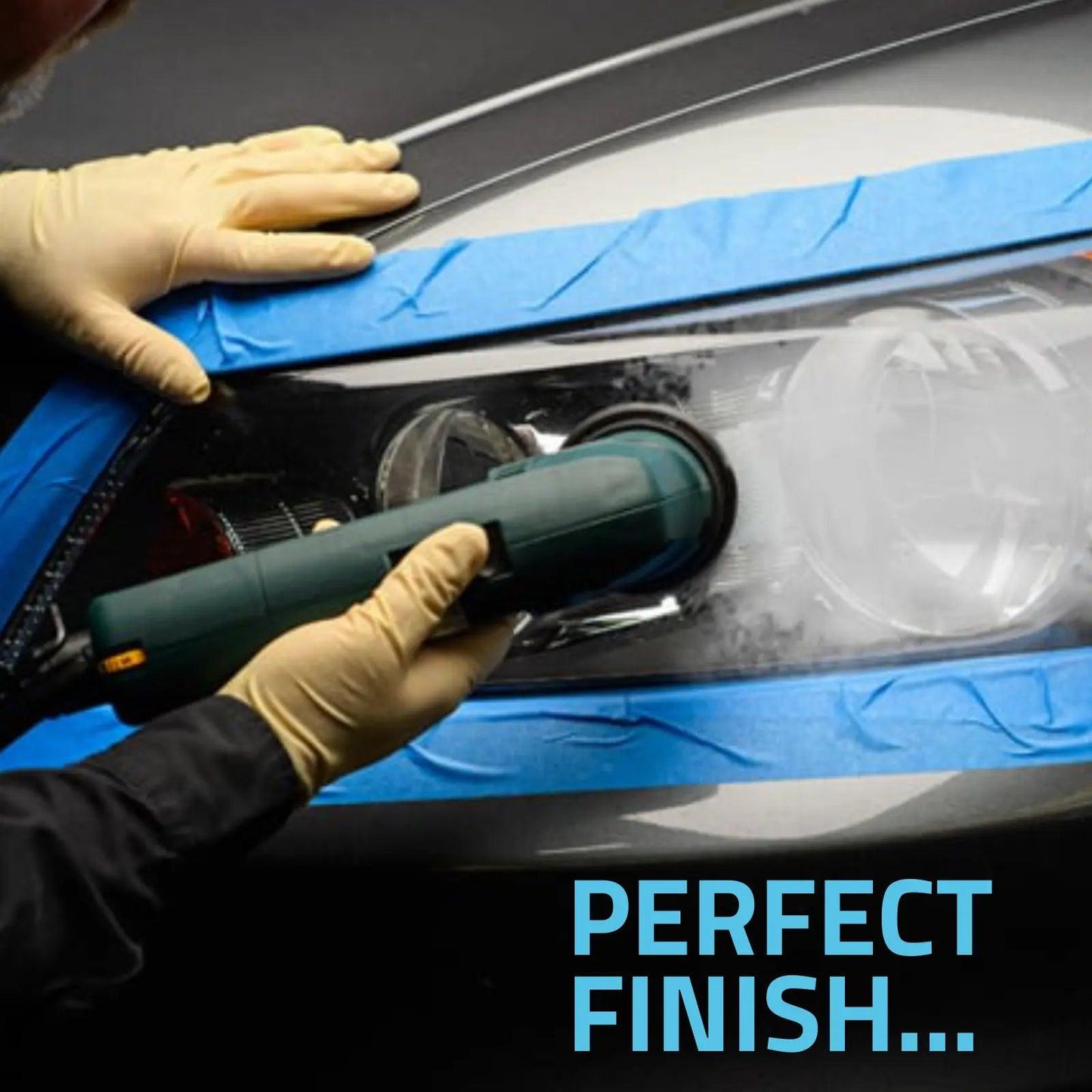 Fastplus® 75mm Flexpro Clearcoat Foam Discs for Fine Finishing Tasks
FF19 75mm Flexpro fine finishing foam disc is an essential tool for removing sanding scratches on the clear coat and painted surface before applying rubbing compound, the 75mm clearcoat foam disc helps to reduce time spent on compounding. Achieve unparalleled results with Flexpro finishing foam discs which are known for rapid cutting and consistent finishing due to the precisely-shaped and patterned 3D pyramid mineral structures. FF19 foam discs are ideal for fine finishing and car detailing.

WHEN TO USE FLEXPRO?

• Before painting: Final sanding of filler, producing a matte finish, blending base and clear coat.
• After painting: Remove dust inclusions, paint runs, and orange peel.
• Varnish: Fixing errors on high gloss surfaces.
• Curved Parts: Buffing up curved surfaces.
• Solid Surfaces: Polish mineral and solid surfaces.
Awesome Product
These little polishing discs are perfect for renewing my tail lights lenses. Pictures speak for themselves
Good product
Had a small auto repair project I wanted to take on and these worked great. I was able to use these with the different grits (all were conveniently numbered on the back) to smooth things out perfectly. Great value!
Schleifpapier von hervorragender Qualität
Diese Schleifscheiben sind langlebig, schneiden sehr gut und sind leicht zu reinigen.
Works great on stainless steel
I restoring a 50+ year old stainless steel sink. After using buffing compound I use these sponge sanding pads wet as the final step. I am quite pleased with the results.
The hook and loop attach to the sander so tight it can be a challenge to remove. The pads hold up well to the abuse and continues to polish for long time. Very satisfied.
They work great
Long lasting and work very well. I was surprised how fast and well these work. Will definitely buy again.