Regular price
Sale price
€33,59
Unit price
per
Sale
Sold out
Out of stock
Make Your Work Safer & Cleaner:
Net structure, captures 95% of dust, enables a virtually dust-free working environment, and farewell to dust and mess.
Make Your Job Done Faster:
Premium ceramic grain delivers outstanding abrasive performance with an excellent cut rate and life.
Make Your Sanding Durable:
The excellent dust extraction brings a better anti-clogging effect which extends the life of sanding discs.
TECHNICAL DETAILS

CERAMESH Net / Mesh Sanding Discs
Model: FN79 Net Abrasives
Size: 150mm (6-inch)
Grain: Ceramic Minerals
Backing: Knitted Fabric Net or Mesh
Coating: Open Coat
Bond: Resin over Resin
Perforation: Net Matrix Holes
Color: Premium Blue
Fastening: Hook and Loop System
Max Speed: 3,200 rpm (6")
Grit Options: P80/120/180/240/320/400/600
PACKING & EAN CODE

Quantity: 50 pieces per single grit
Box Size: 155x155x115mm
Net Weight: 0.40kg
Gross Weight: 0.50kg

EAN Numbers of CERAMESH Net Discs 150mm:
EAN: 6791505000018 (Grit: P80)
EAN: 6791505000025 (Grit: P120)
EAN: 6791505000032 (Grit: P180)
EAN: 6791505000049 (Grit: P240)
EAN: 6791505000056 (Grit: P320)
EAN: 6791505000063 (Grit: P400)
EAN: 6791505000070 (Grit: P600)

HOW TO CHOOSE THE RIGHT GRIT

For automotive aftermarket, it is recommended to choose 80-120 grit for paint stripping, 80-240 grit for filler sanding, 320-400 grit for primer sanding, and 600 grit for finishing before color painting.

For woodworking, decoration, and DIY, the grit recommendation is 80-120 grit for sanding, 120-180 grit for finishing, and 180-240 grit for fine finishing.

For manufacturing and industrial applications, it is good to choose 80-180 grit for surface preparation, 80-240 grit for sanding, 320-400 grit for finishing, and 600 grit for fine finishing.
MATERIALS CAN BE USED ON:

Paint
 Paint stripping/removal
 Paint sanding
 Lacquers
 Plaster/Putty
 Plastics
 Body filler
 Primer
 Solid surface
Wood
 Soft/Resinous wood
 Hardwood
 Veneer
 Chipboard
 MDF/HDF
Metal
 Aluminium
 Mild steel/carbon steel
 Non-ferrous metal
 Stainless steel
 Steel
 Cast iron
 Copper alloys/brass/bronze
 Glass fibre

View full details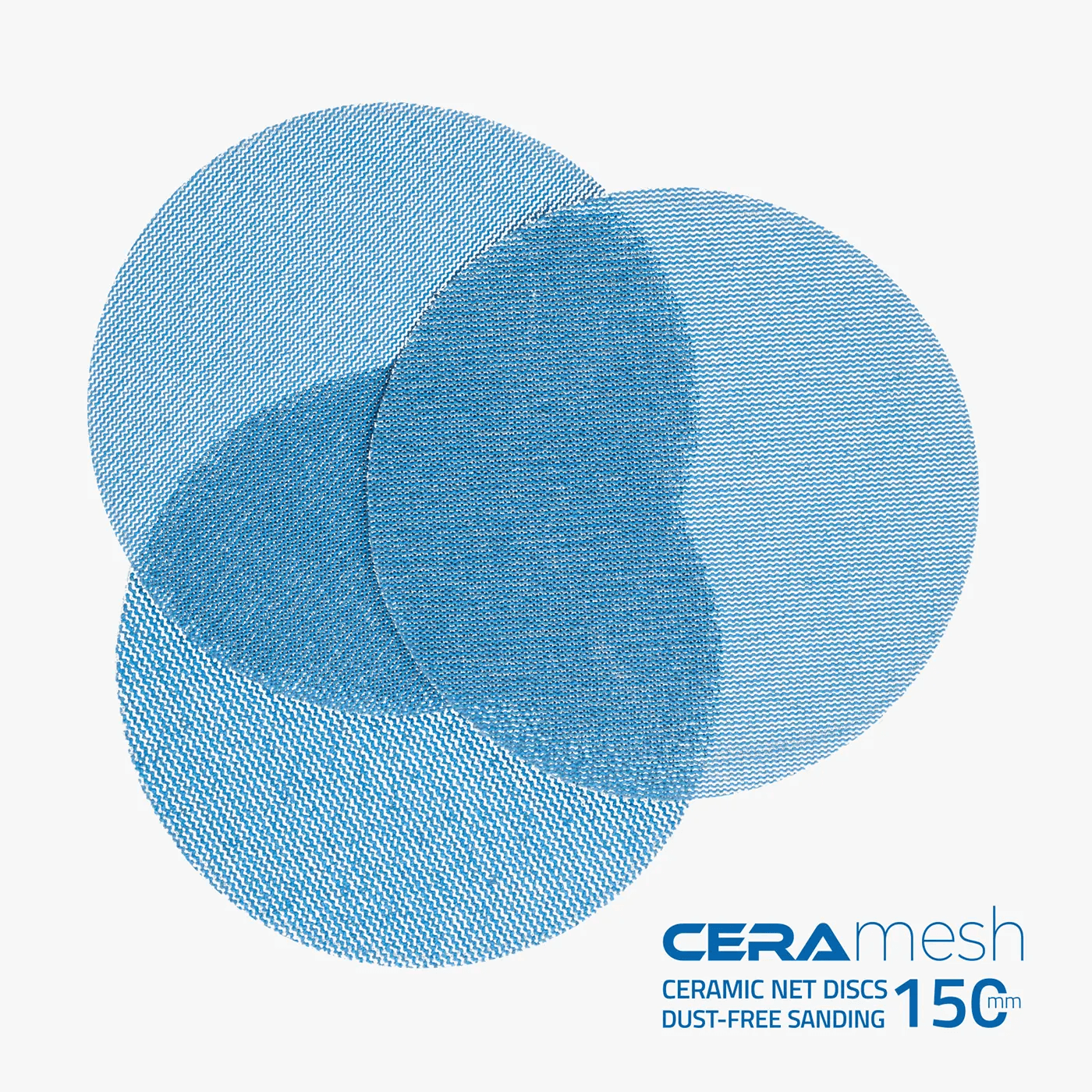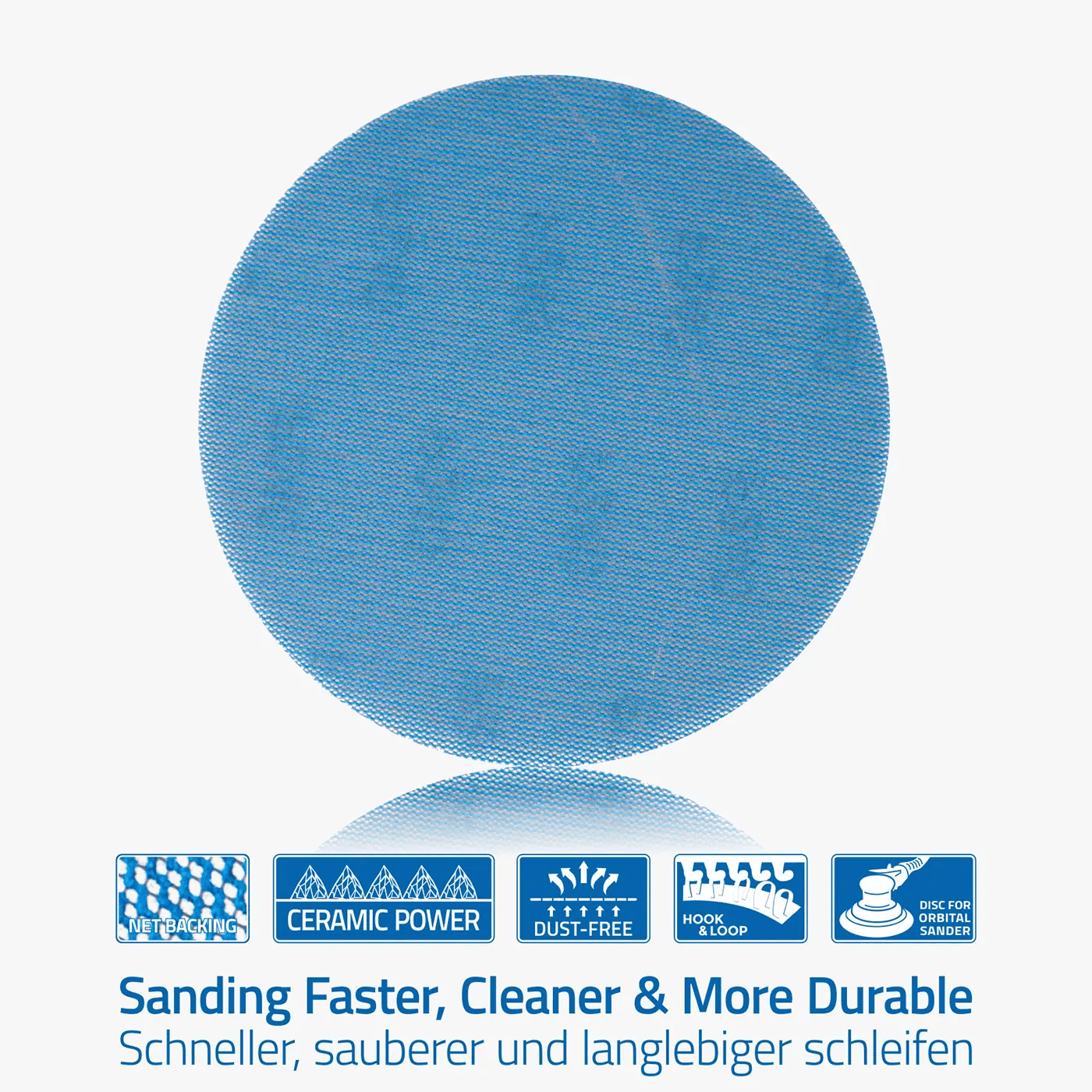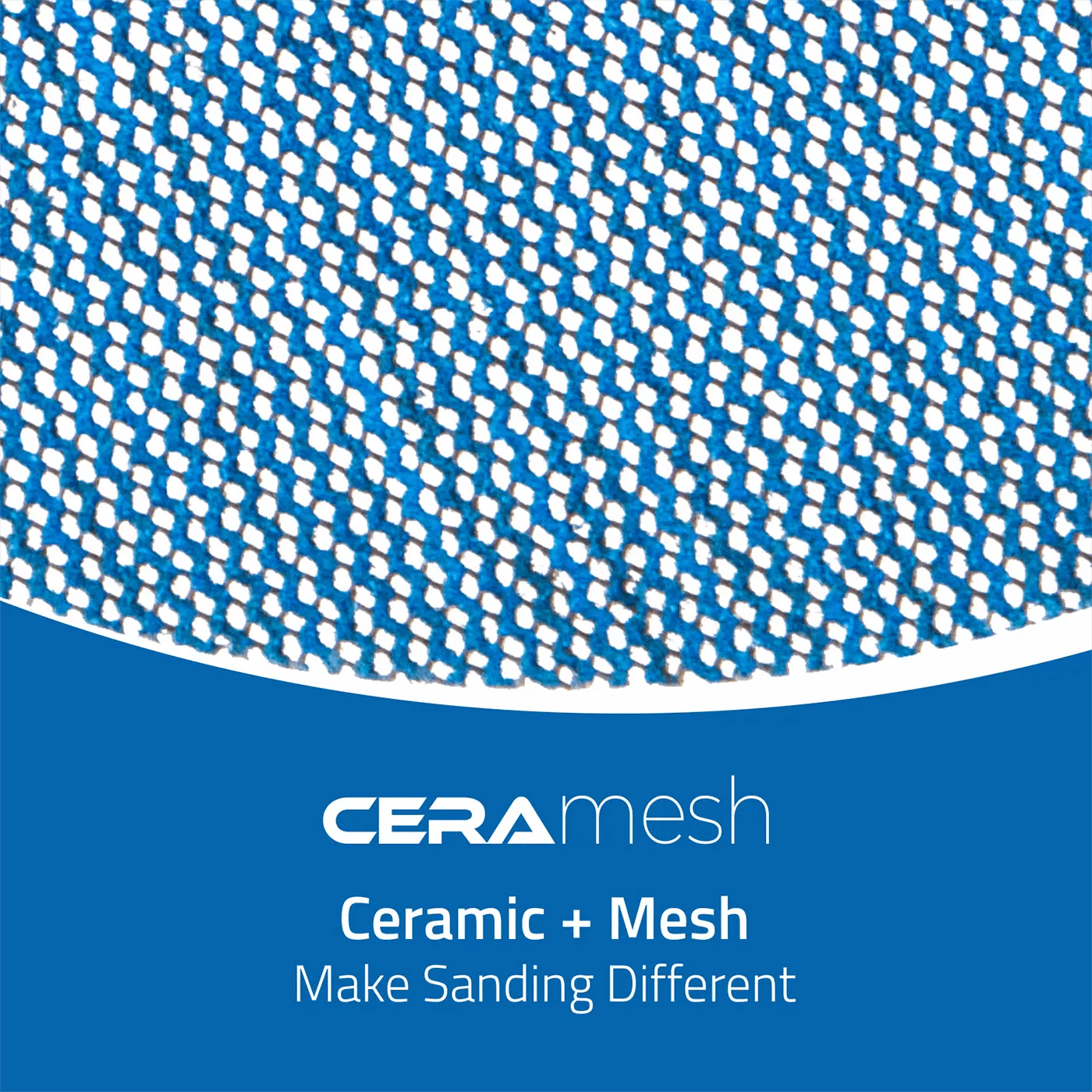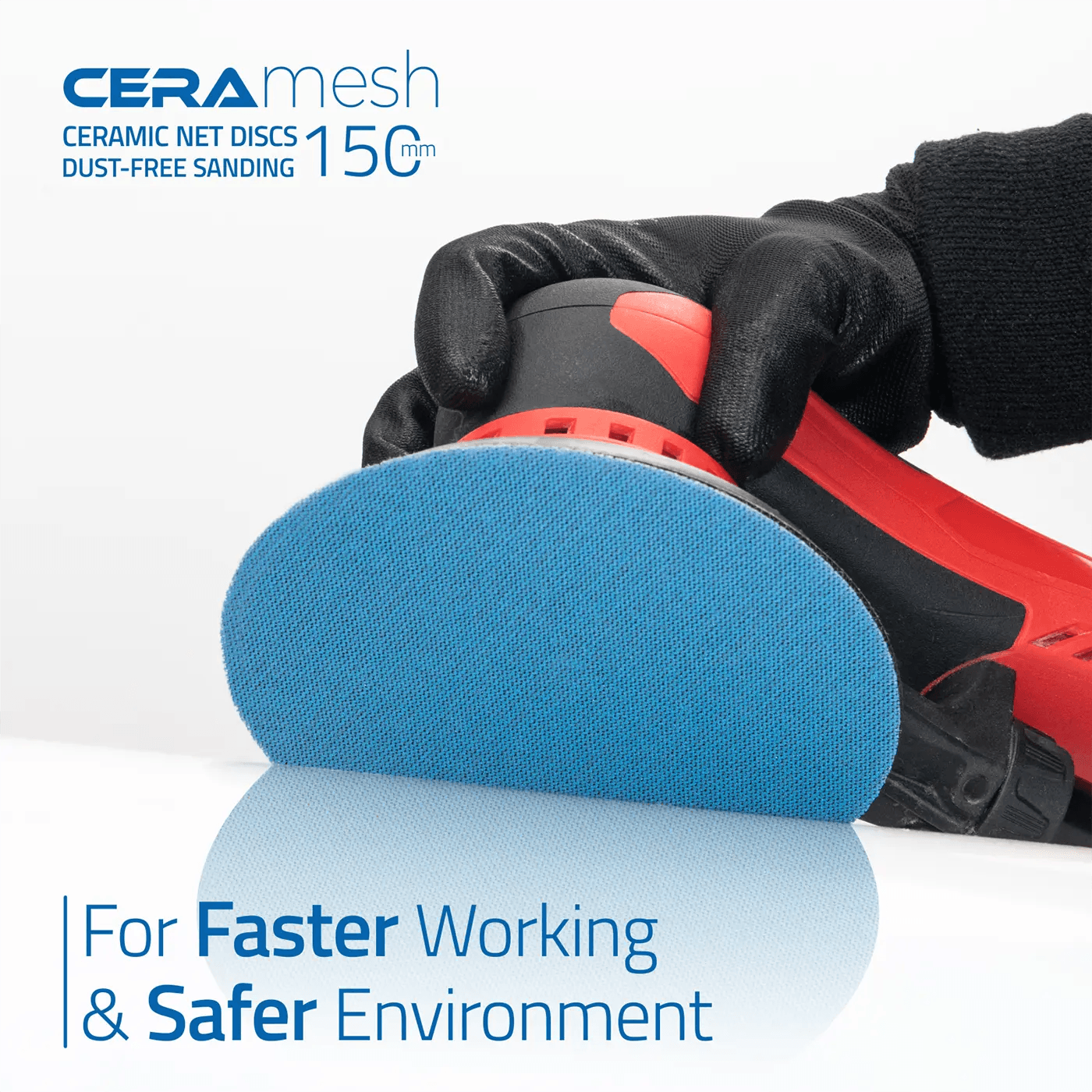 CeraMesh Net & Mesh Sanding Discs FN79
CeraMesh Net Sanding Disc combines Premium Ceramic grain, Knitted Fabric Net or Mesh, and a hook & loop system. Instead of conventional aluminum oxide grain, the CeraMesh net sanding discs are coated with fully premium ceramic grains which are more aggressive and cut faster to boost sanding productivity and deliver outstanding abrasive performance with an excellent cut rate and life. It helps save labor force and material costs in the long run.

The mesh or net structure of FN79 net discs maximizes dust extraction and captures more than 95% of dust to enable a cleaner and healthier work environment.

CeraMesh Net discs are attached with a hook and loop system, which makes the disc change quick and easy, available with the full range of grits, including P80, P120, P180, P240, P320, P400, and P600, that allow stock removal to a fine finish.

The FN79 blue mesh sanding discs are widely used in car refinishing, paint, Woodworking, Composite Sanding, Metal Fabrication, Primer Sanding, and Gelcoat Sanding.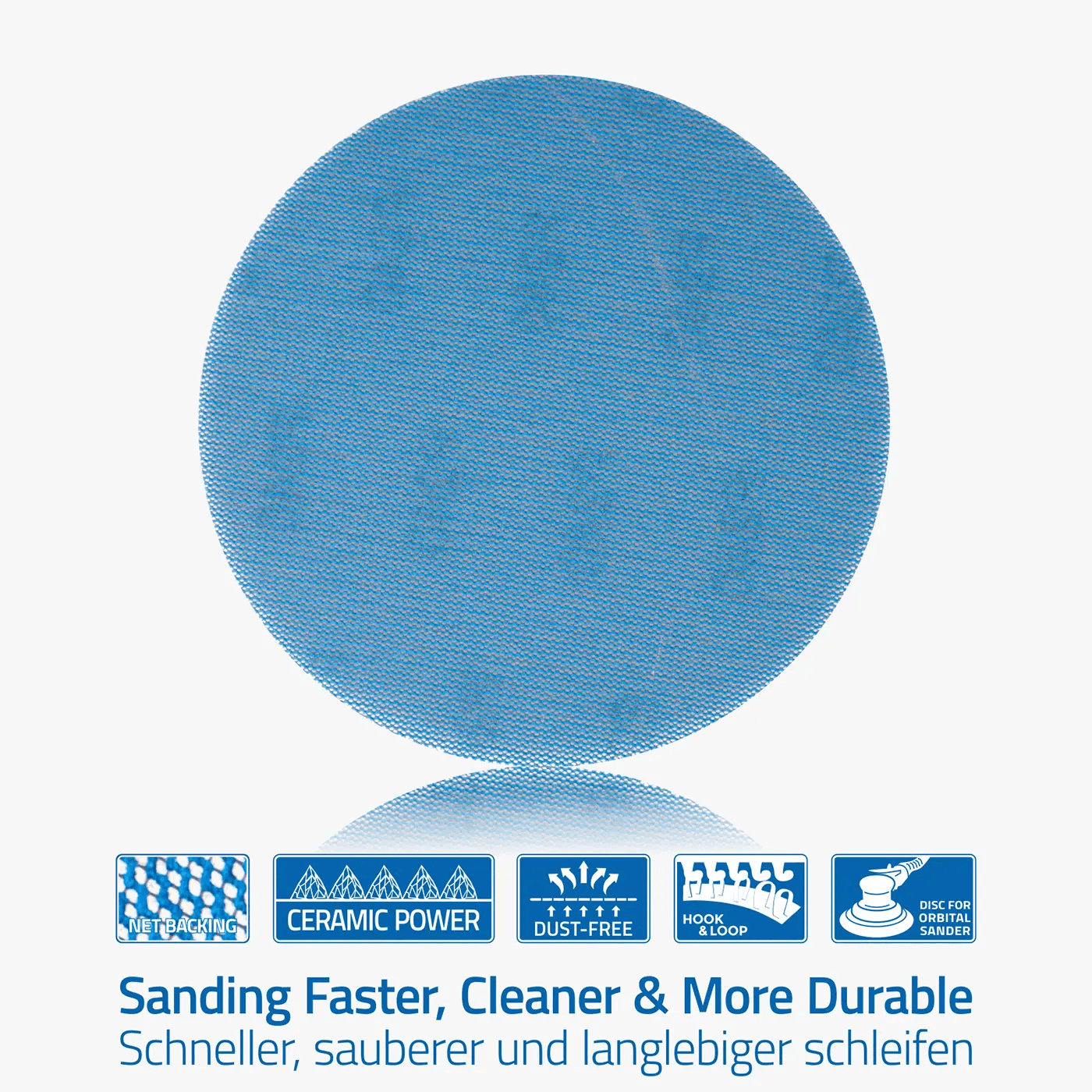 Ceramic Net Discs
• Premium ceramic abrasives
• Cutting faster, boosting sanding efficiency
• Anti-clogging, durable, and long service life
• Full range of coarseness: 80-600 grits for different tasks
• Net and mesh backing advantages
• Hook and loop makes disc change easy and quick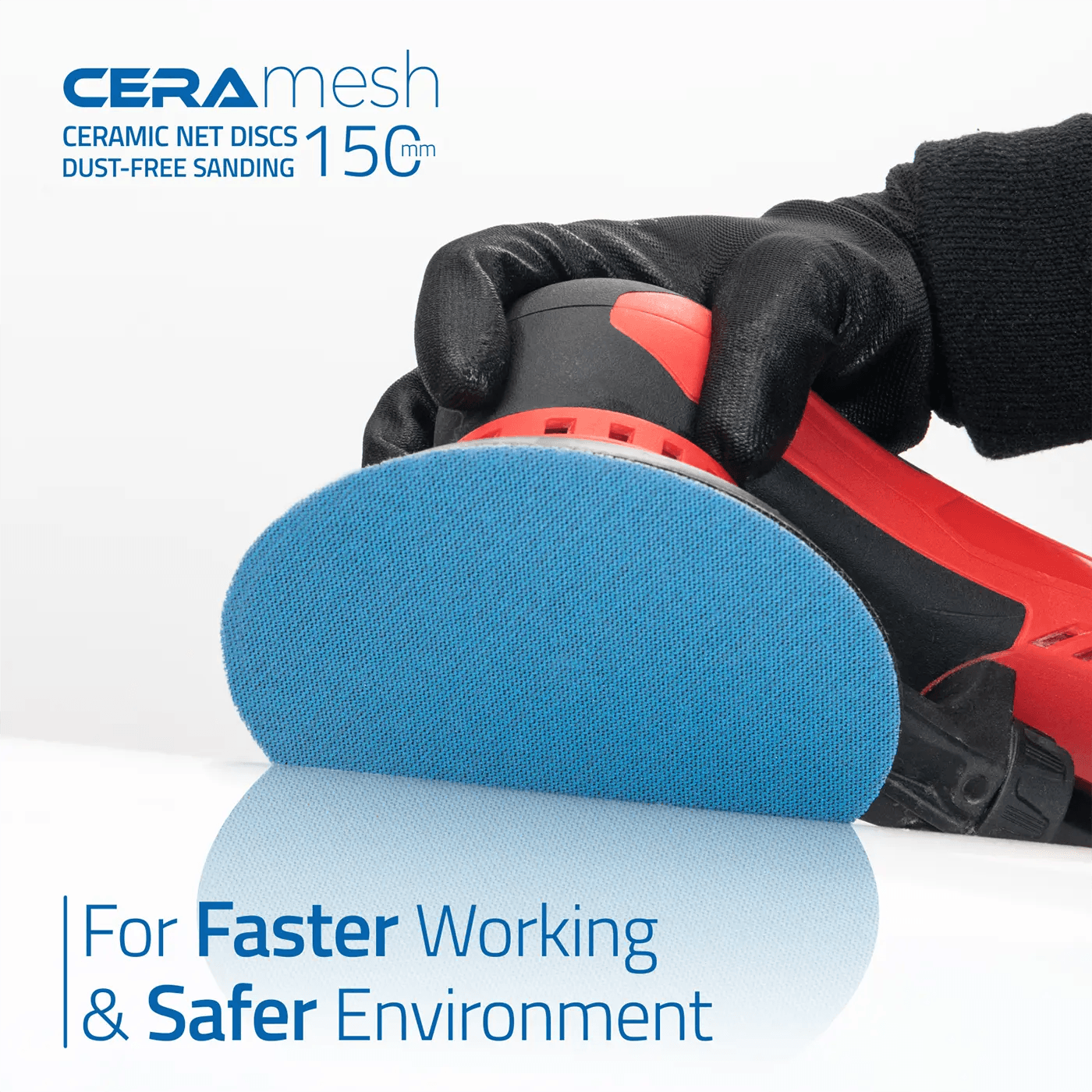 Dust-free Sanding
• Mesh / Net structure
• Thousands of mesh matrix vacuuming holes
• Extract 95%-99% of dust, almost dust-free
• Prevent you from dangerous dust
• Enable a safe and clean working environment
• Wildly used in Primer and Gelcoat sanding, woodworking, composite, and metal fabrication.