Regular price
Sale price
€11,99
Unit price
per
Sale
Sold out
In stock
Fastplus® 125mm hook & loop sanding discs F15 are made with premium ceramic alumina, come with different sizes, holes, grits and shapes, highly recommended for autobody use, wood sanding, sanding of bare metal, primer, primer surfacer, between coats of paint and on solid surface countertops.
TECHNICAL DETAILS

125mm Hook and Loop (Velcro) Gold Sanding Discs
Model: F15
Size: 125mm (5")
Perforation: 8 holes
Color: Premium Gold
Grain: Alumina Ceramic Minerals
Fastening: Velcro for random orbital sanders
Grits: 40/60/80/120/180/240/320/400/600/800
Quantity Per Box: 50 pieces
PACKING & EAN CODE

Quantity: 50 pieces per single grit
Box Size: 130x130x60mm
Net Weight: 0.25kg
Gross Weight: 0.45kg

EAN Numbers of 125mm 8H F15 Sanding Discs:
EAN: 6151258000015 (Grit: P40)
EAN: 6151258000022 (Grit: P60)
EAN: 6151258000039 (Grit: P80)
EAN: 6151258000046 (Grit: P120)
EAN: 6151258000053 (Grit: P180)
EAN: 6151258000060 (Grit: P240)
EAN: 6151258000077 (Grit: P320)
EAN: 6151258000084 (Grit: P400)
EAN: 6151258000091 (Grit: P600)
EAN: 6151258000107 (Grit: P800)
HOW TO CHOOSE THE RIGHT GRIT

P40 For removing thick layers of rust and lacquer.
P60 For pre-treating unprocessed surfaces.
P80 For correcting heavy areas of unevenness.
P120 For roughening before priming or pickling.
P180 For initial sanding after priming.
P240 For initial wet sanding after priming.
P400 For smoothing filled surfaces.
P600 For fine sanding before painting.
P800 For final fine sanding before painting.
View full details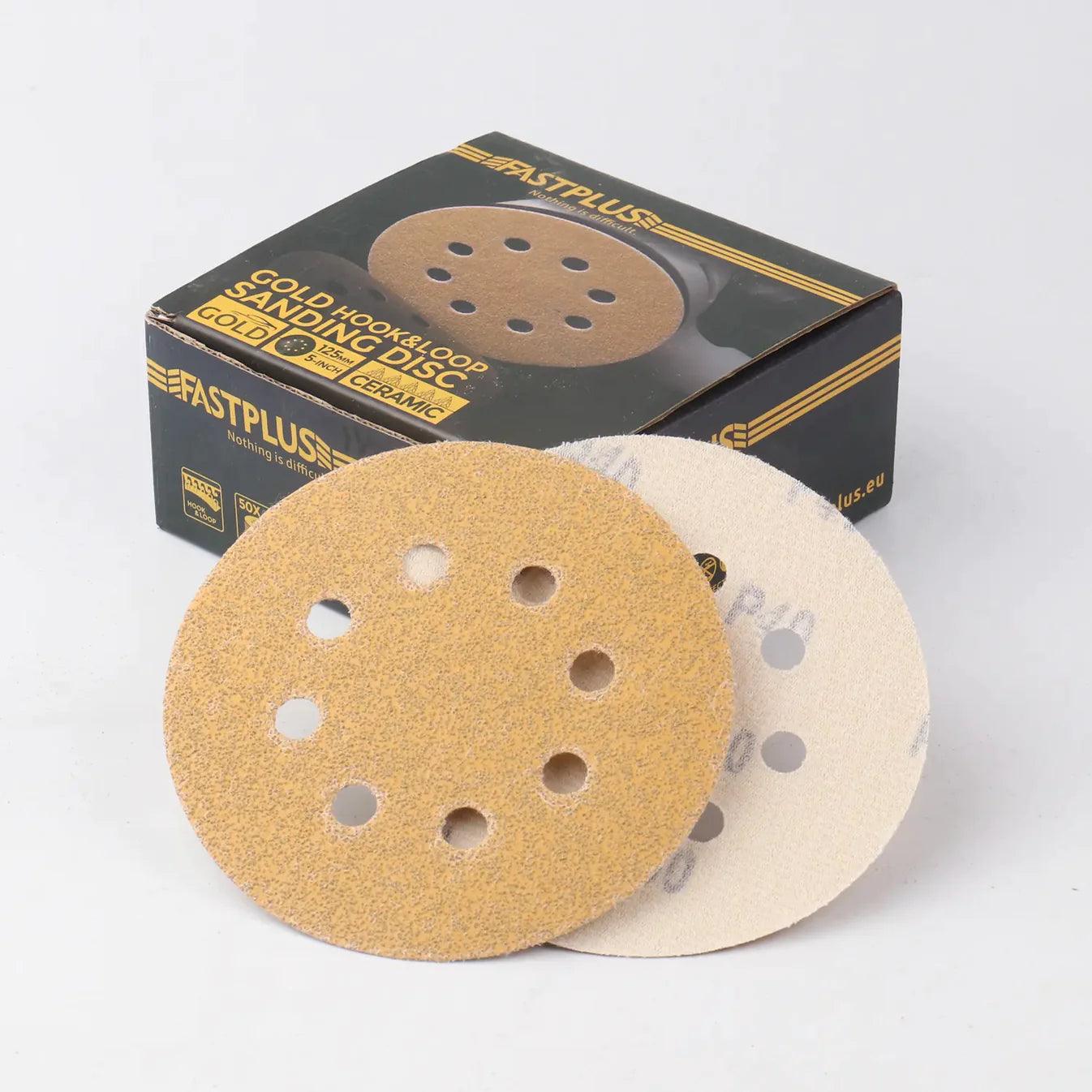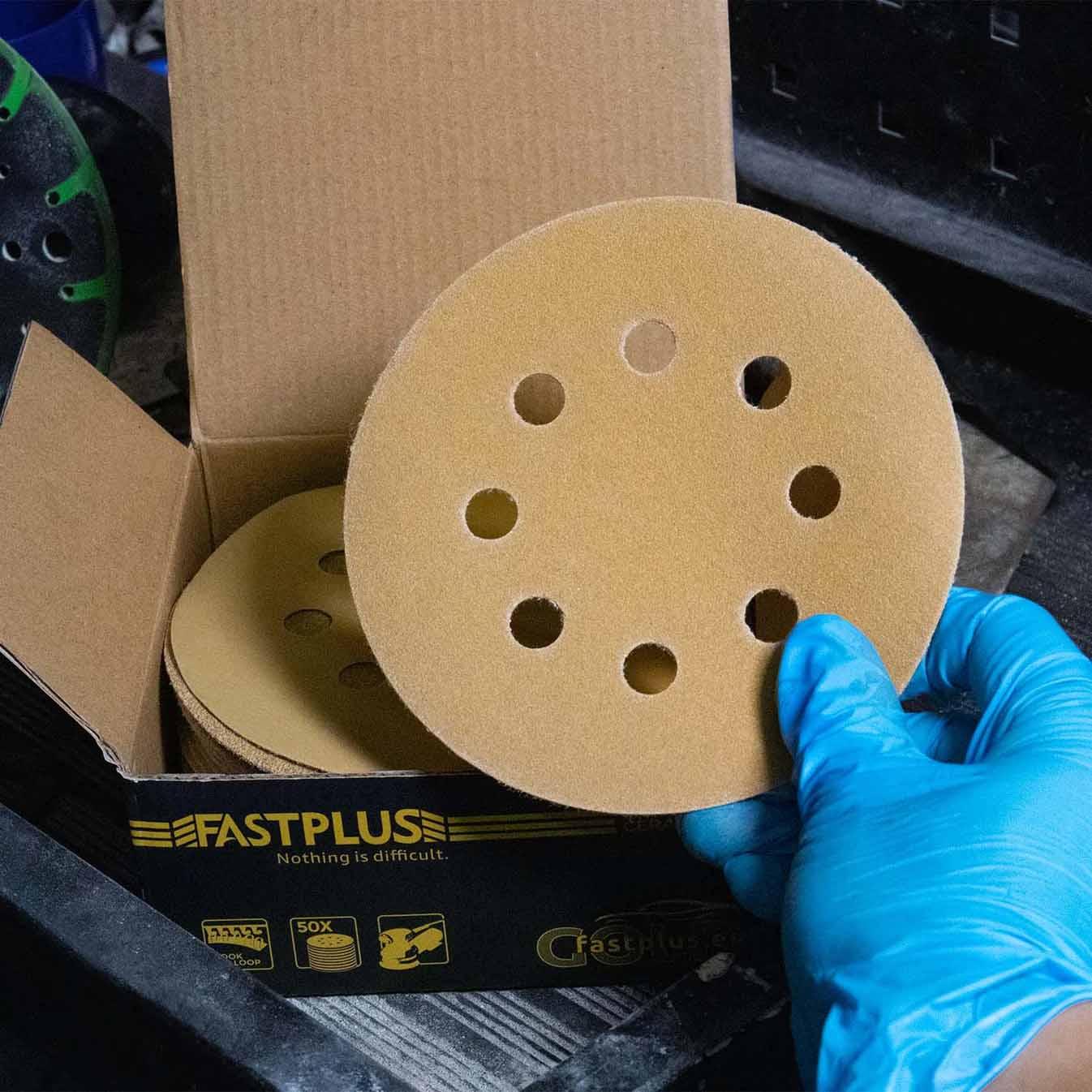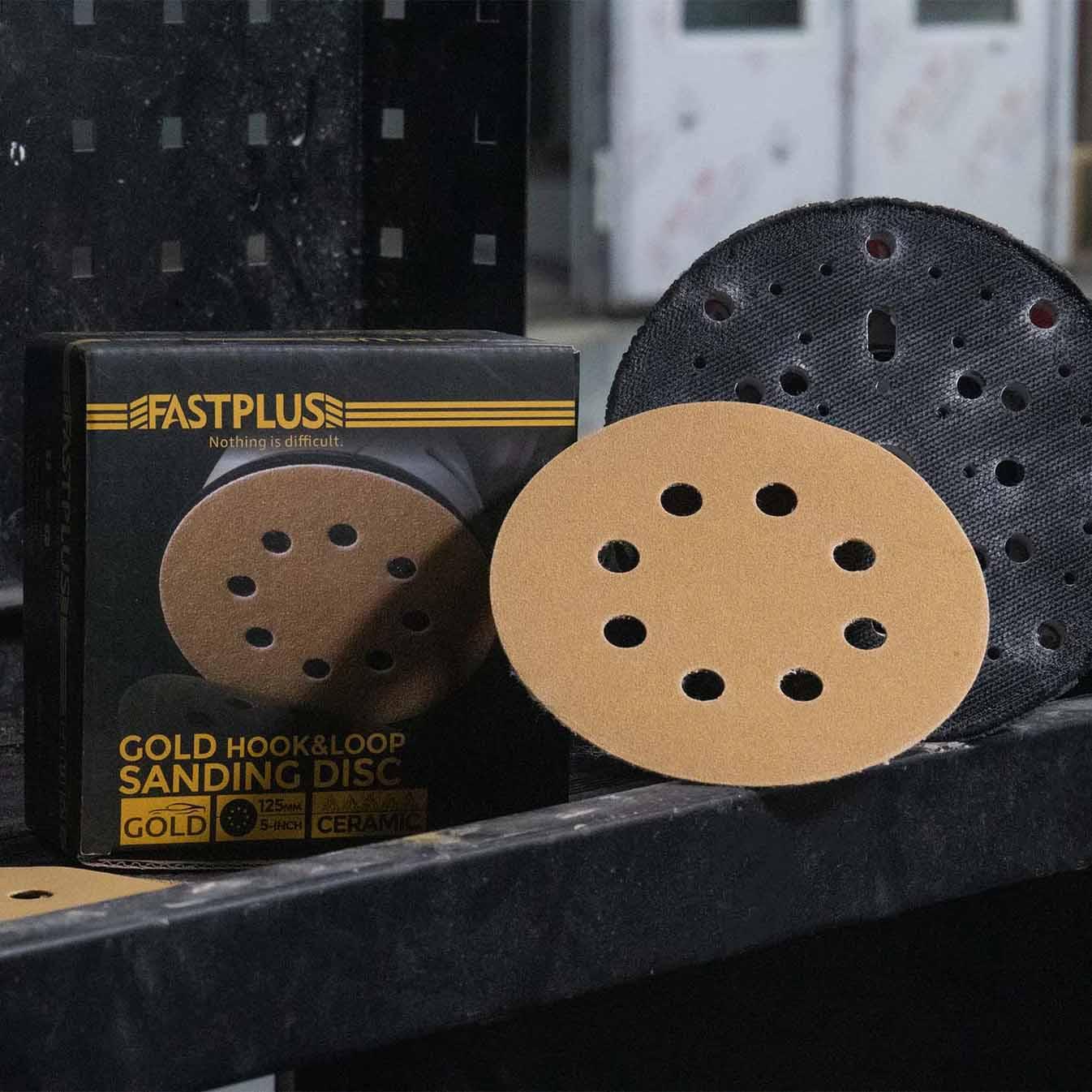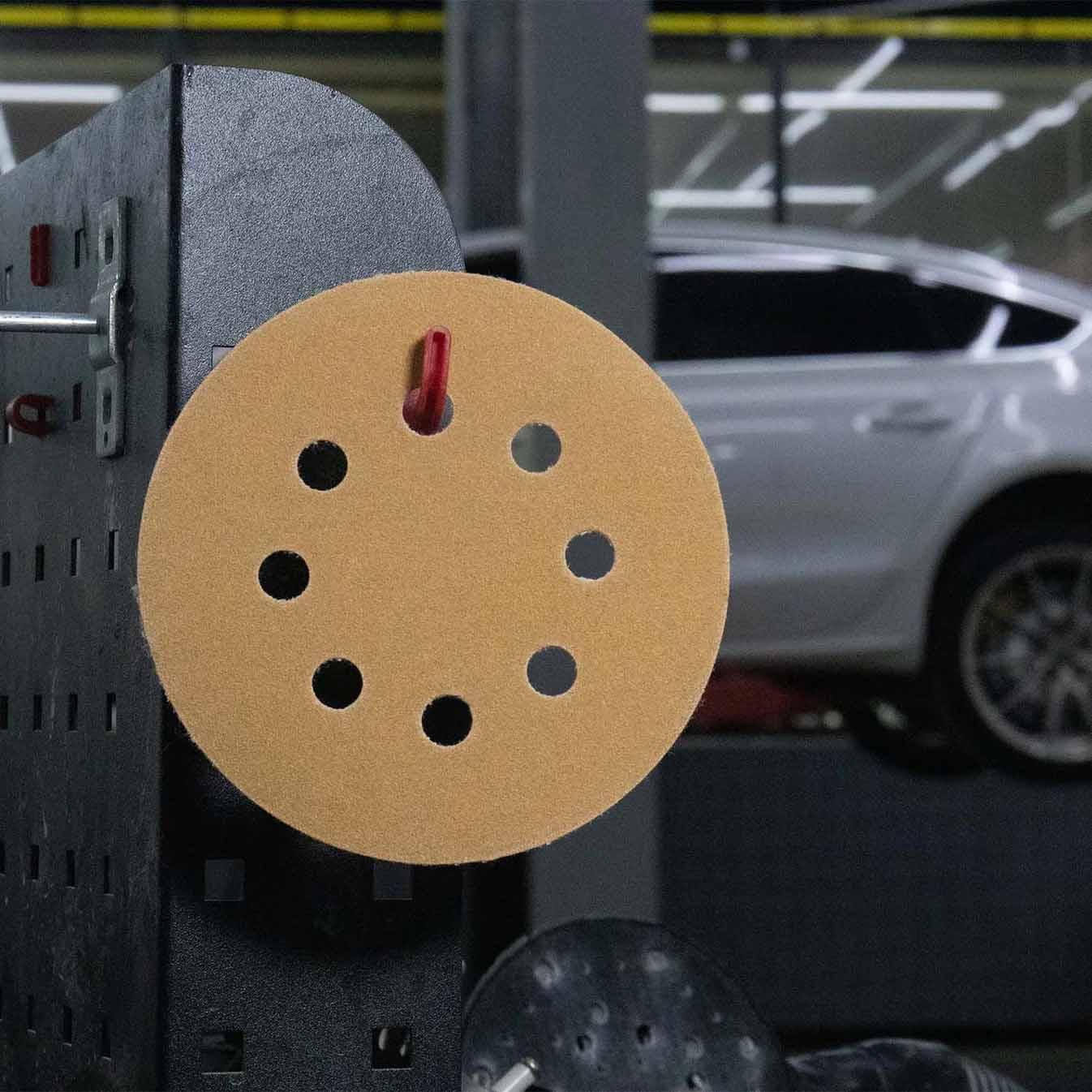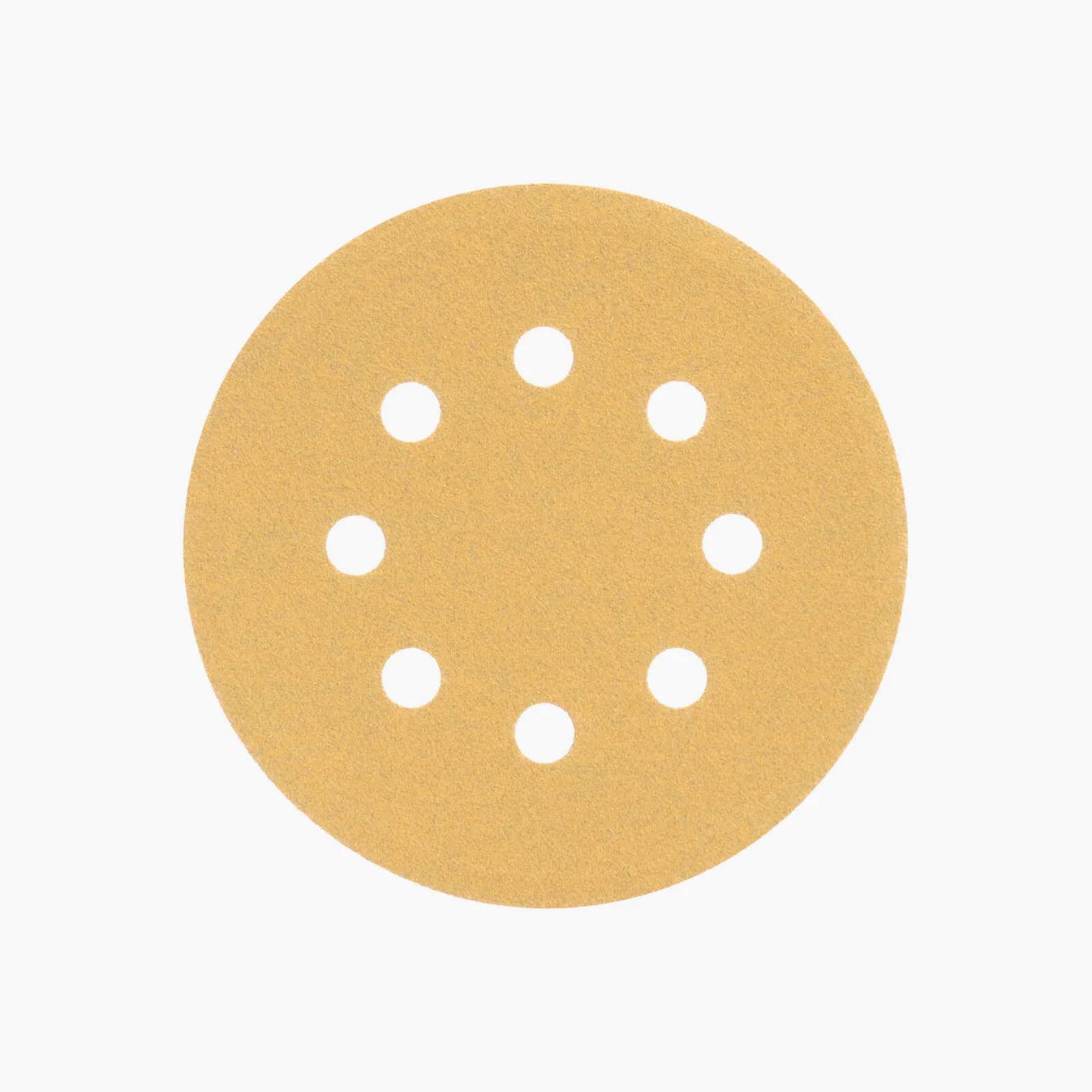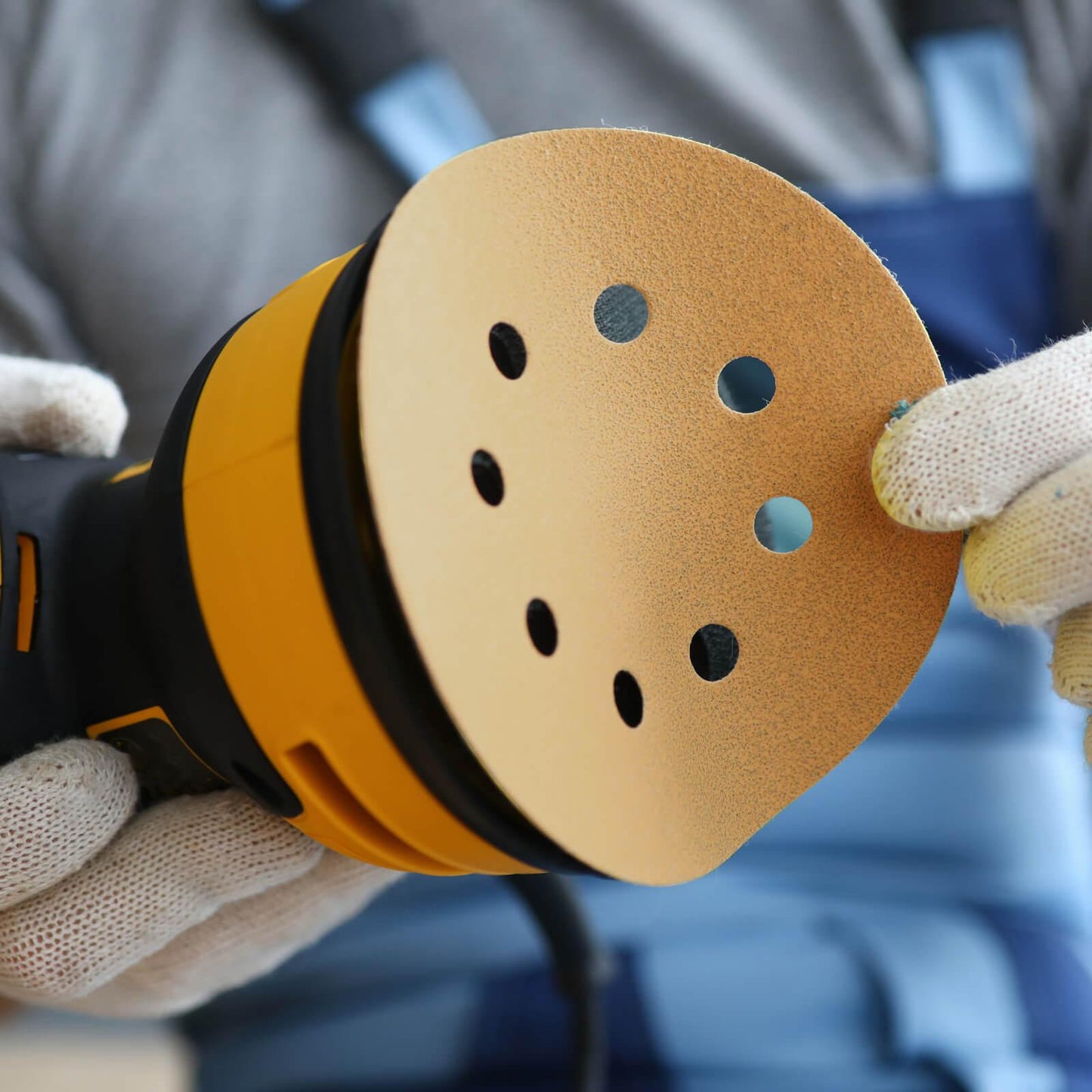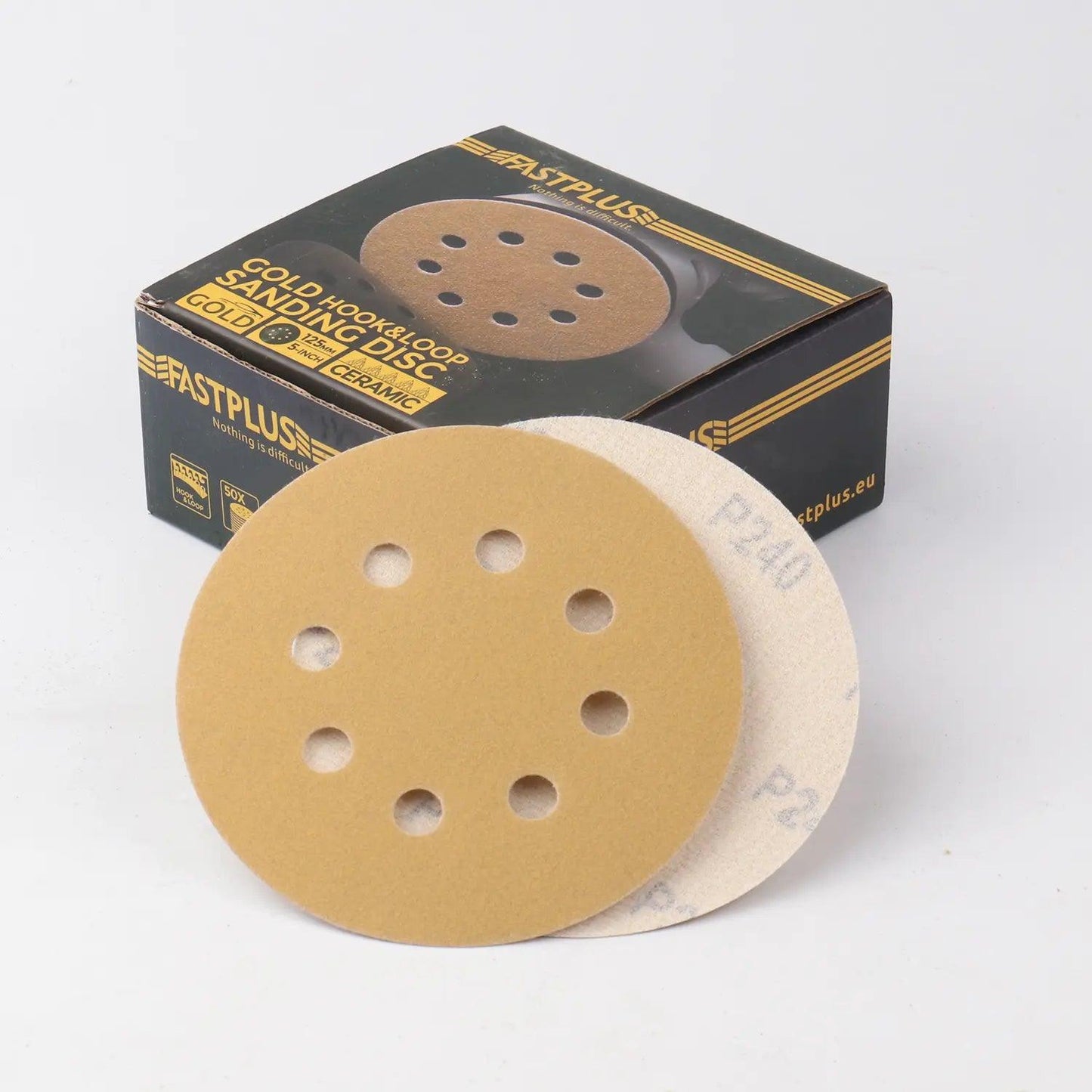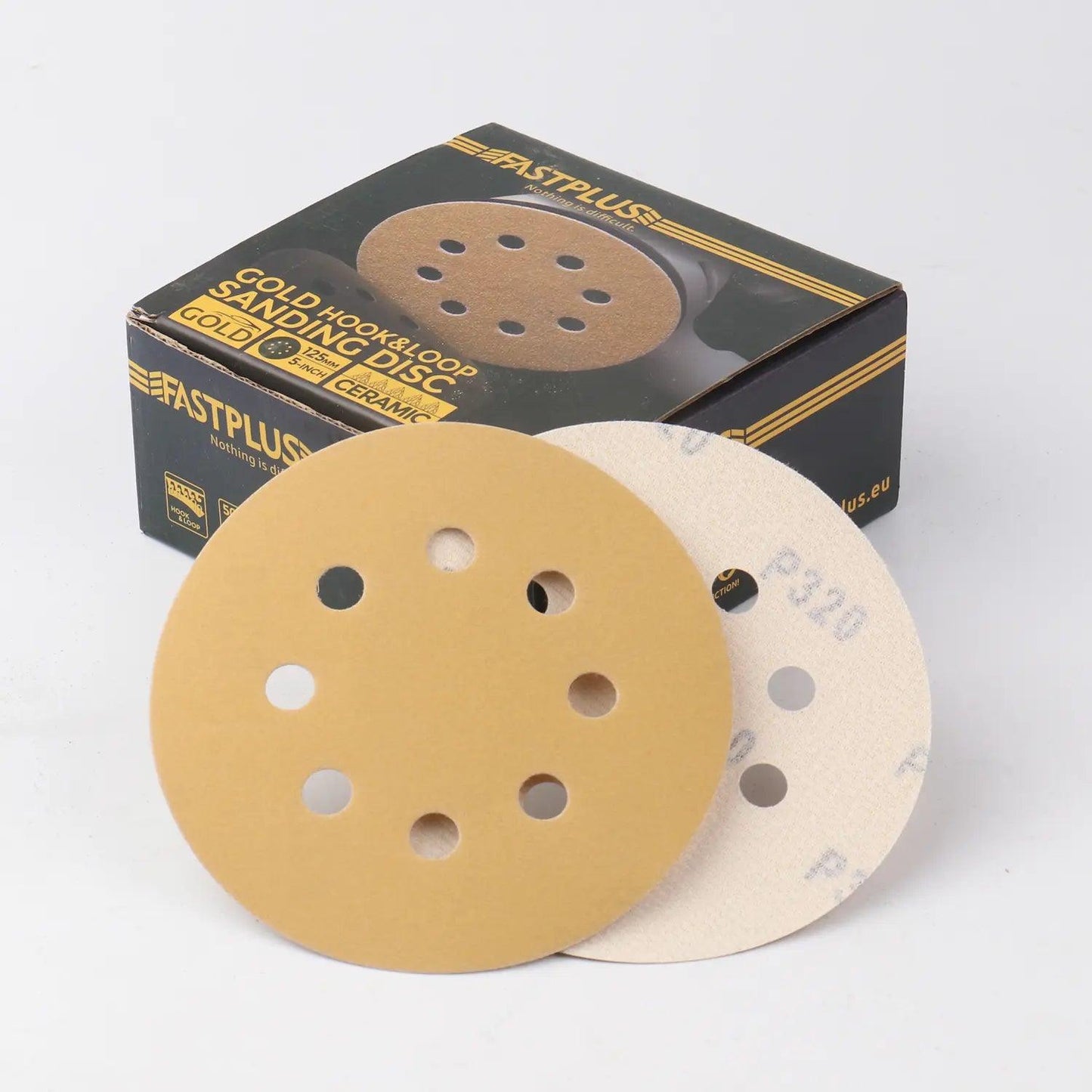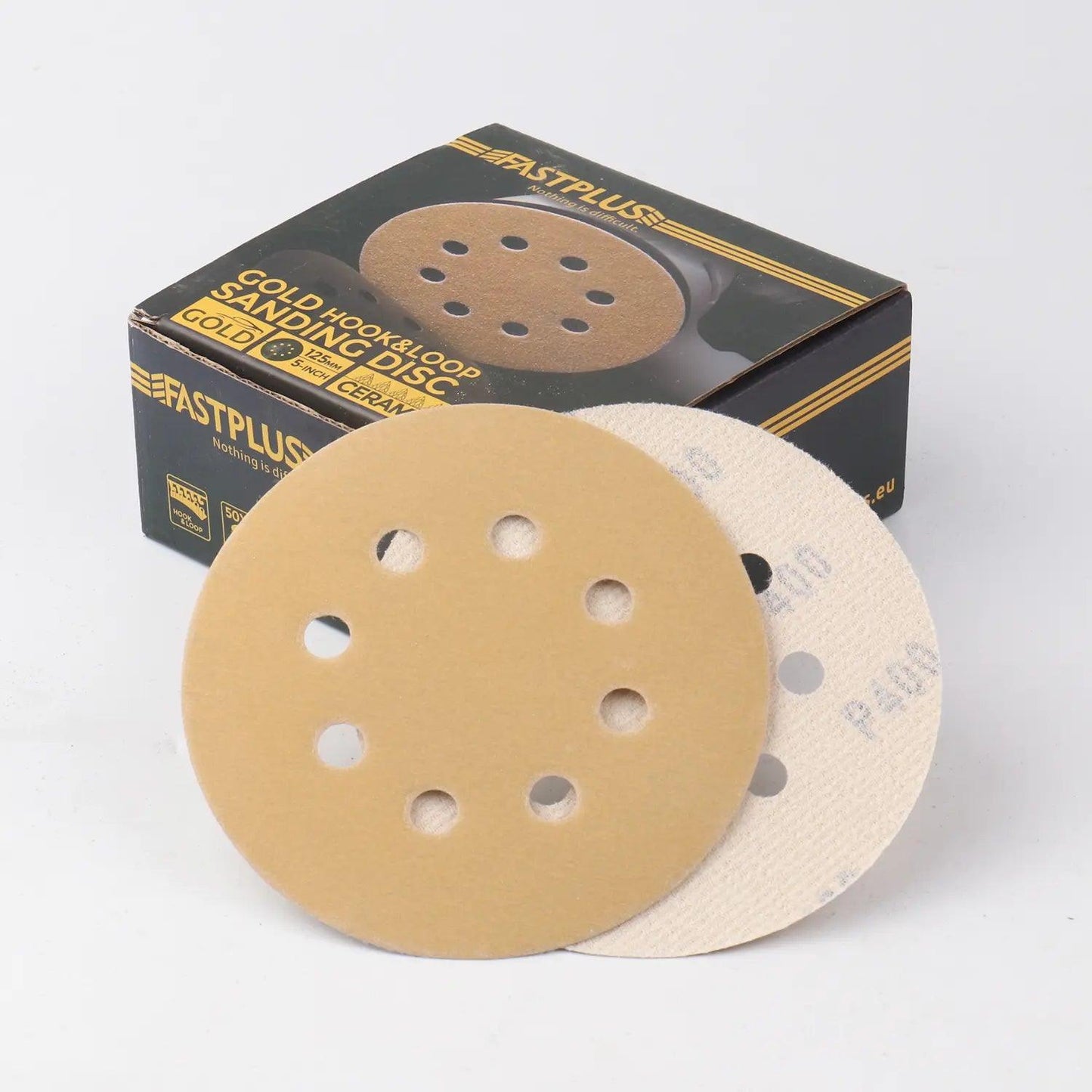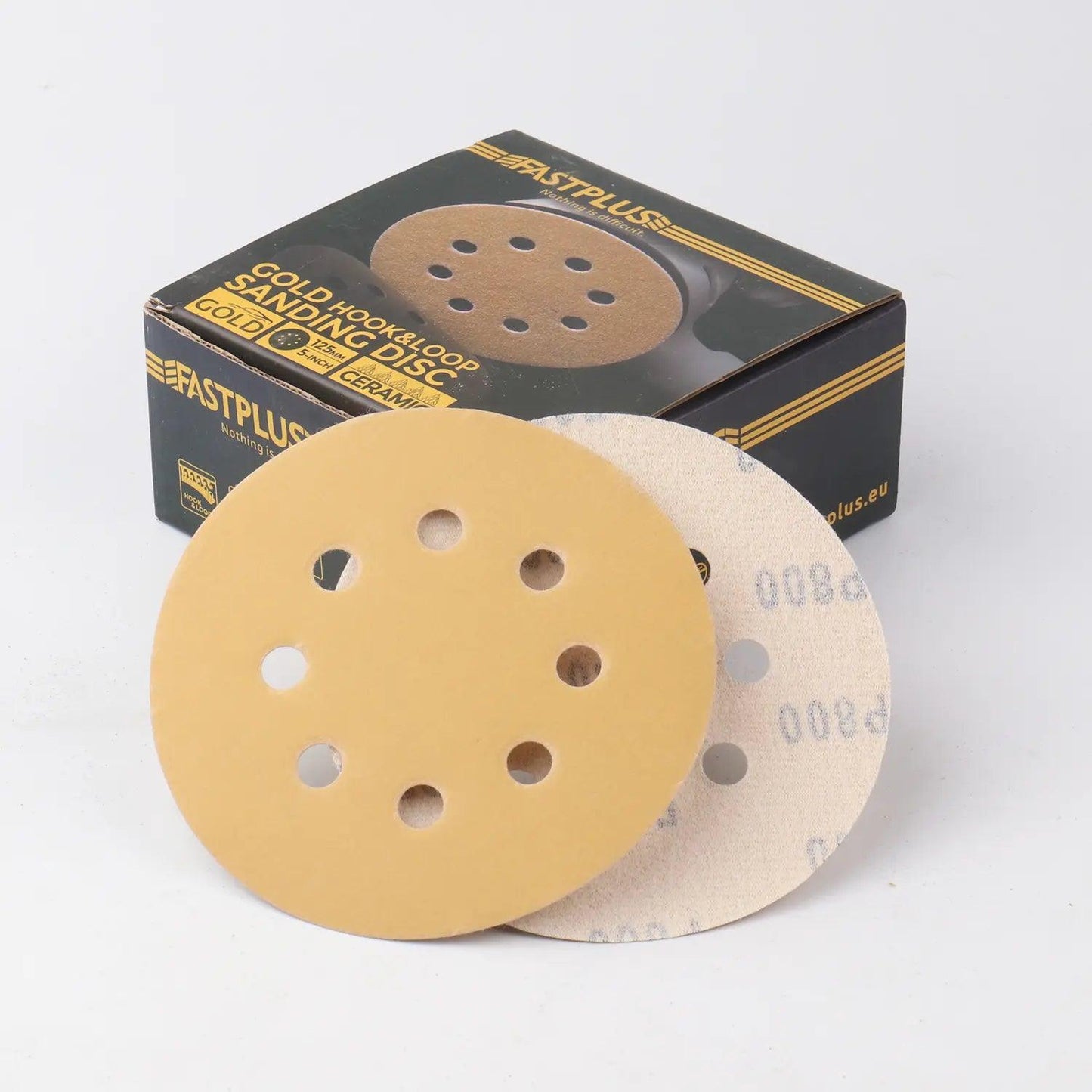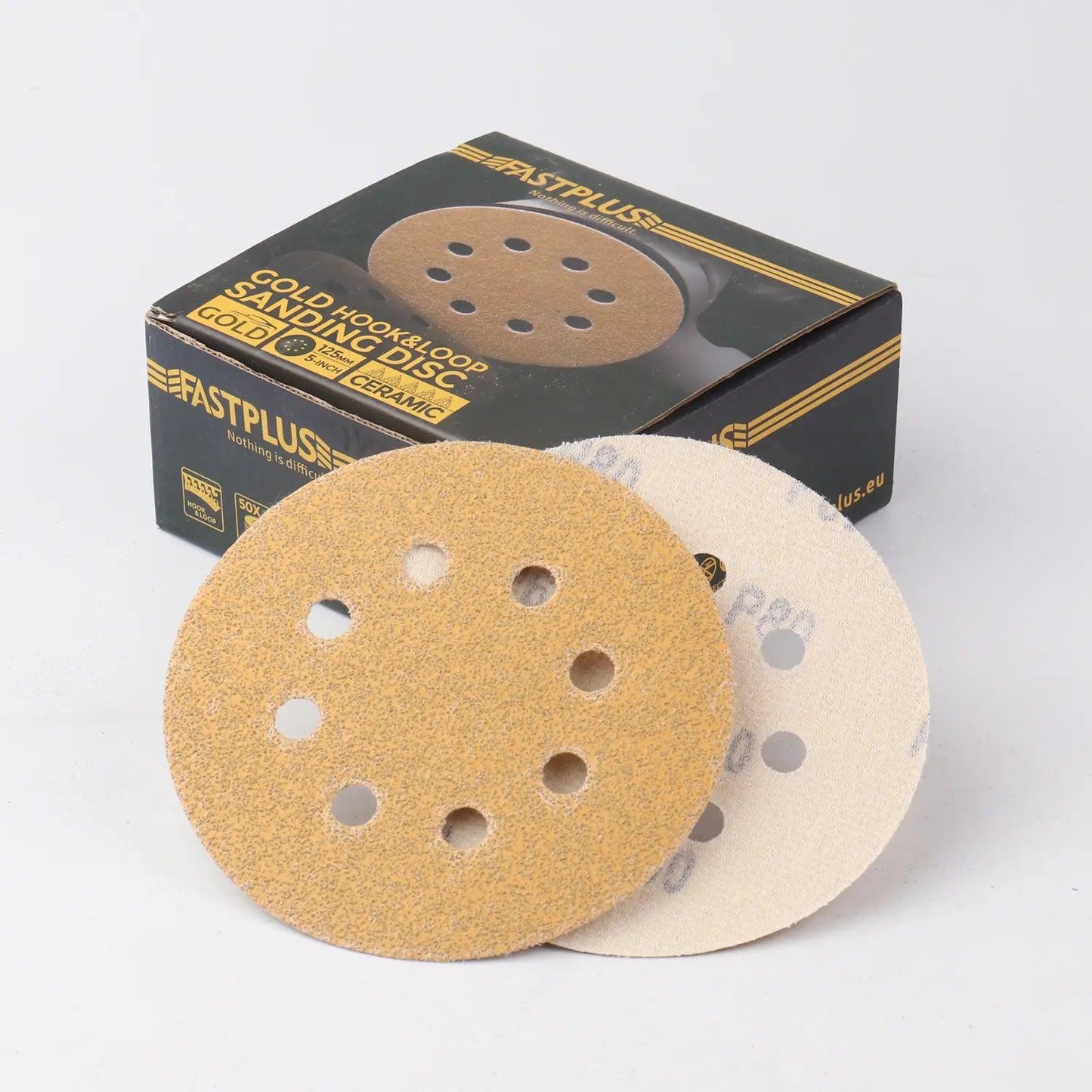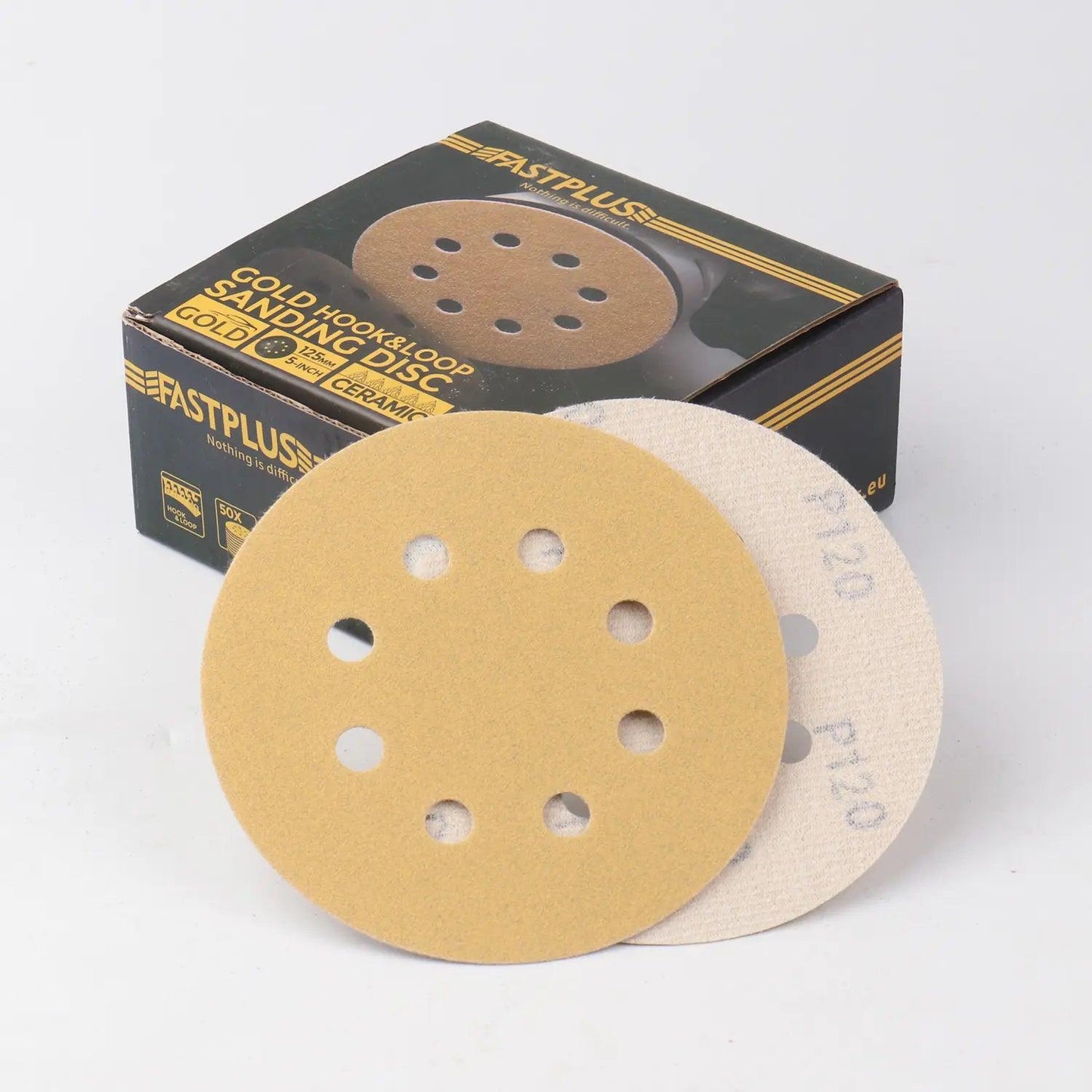 Buy Cost-effective Sanding and Abrasives for Your Projects
Sanding Your Car by Using Budget-friendly Abrasive Discs: Buy F15 125mm Gold Sanding Discs here.
• F15 • Ceramic Alumina • Velcro • 125mm/5" • 8 Holes • P40-P800 Grit • For Automotive and Wood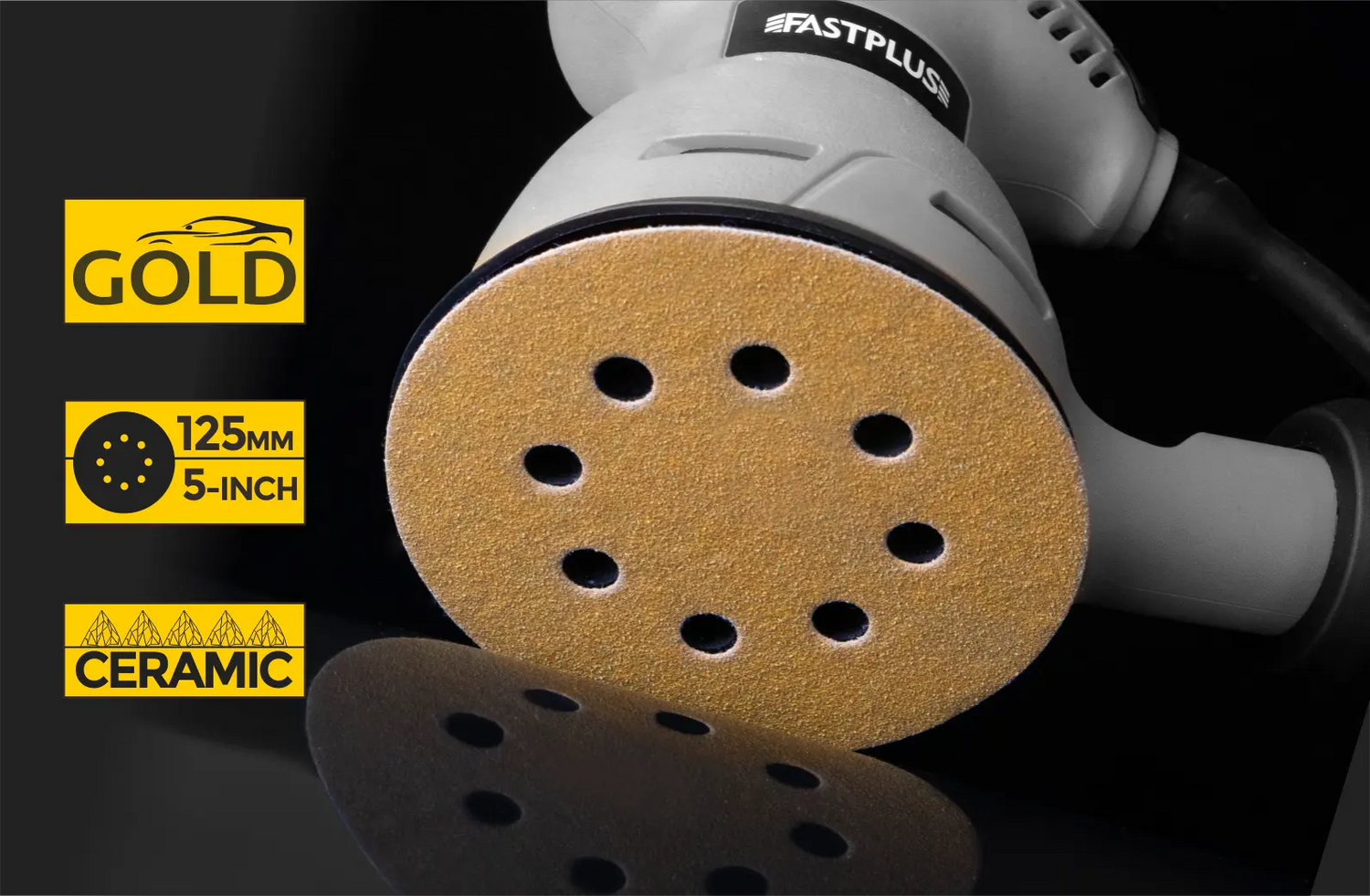 Universal-fit Sanding Discs
• Premium ceramic alumina coated abrasives
• Hook-and-loop system, easy to changeover
• Universal 8-hole pattern for all sanders
• Durable and long service life
• Full range of coarseness: 40-800 grits
• Cost-effective abrasive paper discs
Versatile Sanding
• Fit for all orbital sanders
• Suitable for coarse-to-fine sanding purposes
• Suitable for sanding almost all materials
• Wildly used in car repairing, woodworking and etc.
Amazing !!!
This is by far the best sanding disc I've ever used, after I've finished sanding a project it still looks as good as new.
Super
Very nice, surprise with this pack of 50 p40 (grit size) discs. I used them to roughen some wooden furniture and doors for a first pass with a coarse grit and it was perfect. They seem to last even with heavy use, compared with the old discs that I had to throw away after 5 minutes of use. I'm completely satisfied.
good sandpaper
Good sandpaper does not clog easily
Gutes Schleifpapier
Nach dem Gießen eines Flusstisches und der Verwendung eines Oberfräsenschlittens, um ihn zu glätten, hatte ich einige Rillen, die durch den Druck auf die Oberfräse beim Hin- und Herfahren entstanden. Ich muss sagen, dass diese Schleifscheiben auf meinem Exzenterschleifer die Arbeit, sie zu entfernen, viel einfacher machten.
sehr brauchbare Scheiben
Ich habe eine Menge Teakholzmöbel für den Außenbereich überholt, und diese Scheiben halten länger, als ich erwartet hatte.