Regular price
Sale price
€4,50
Unit price
per
Sale
Sold out
In stock
Wet Sandpaper Sheets BN38 for Car, Metal, Wood & Composites
Size: 230mmx280mm / 9"x11"
Type: Waterproof, Wet or Dry
Grain: Silicon Carbide
Backing: 30% latex-backed paper
Color: Premium Black
Fastening: Cut to fit hand tools
Grit Options: 80/120/180/240/320/400/600/800/1000/1500/2000
Quantity Per Box: 10 pieces
View full details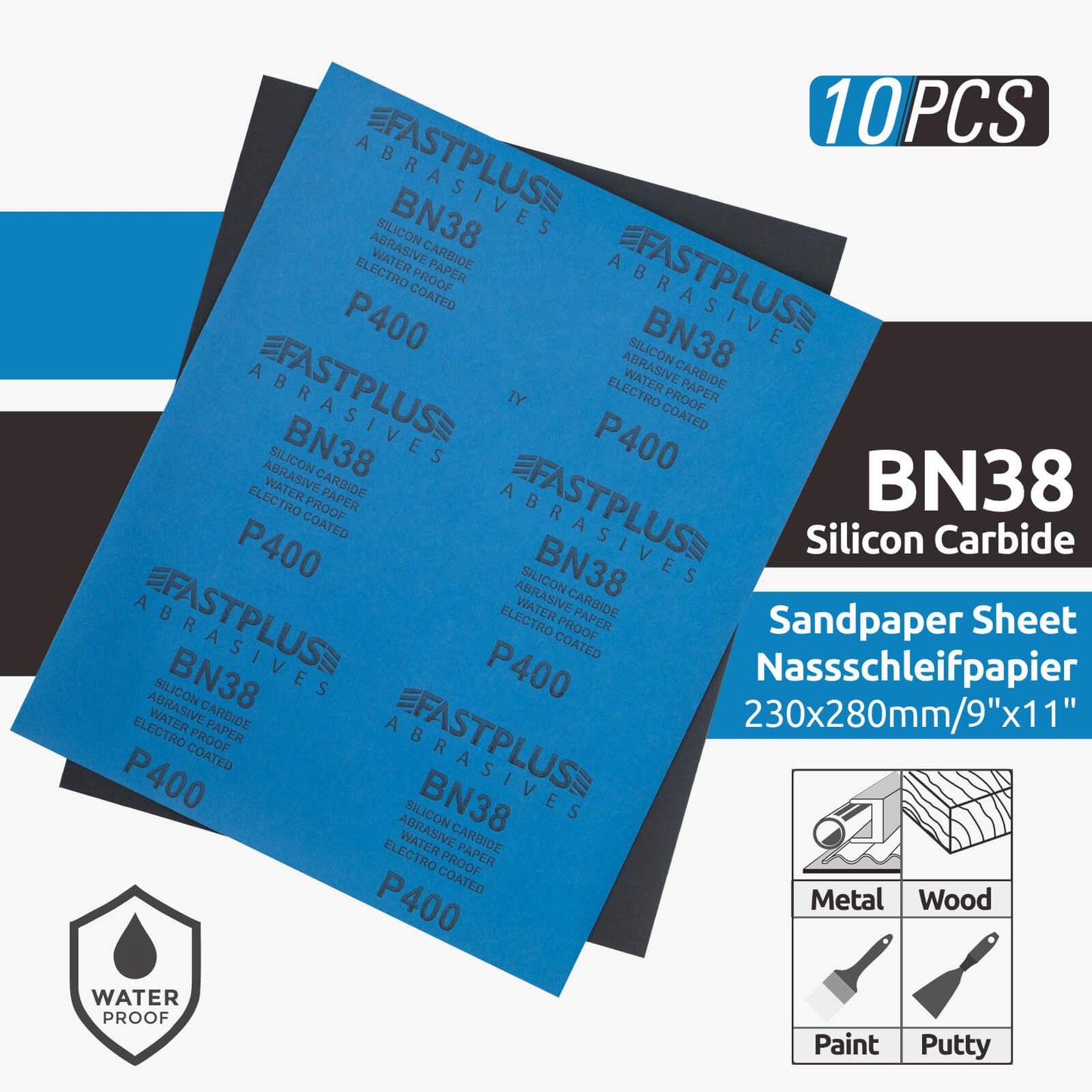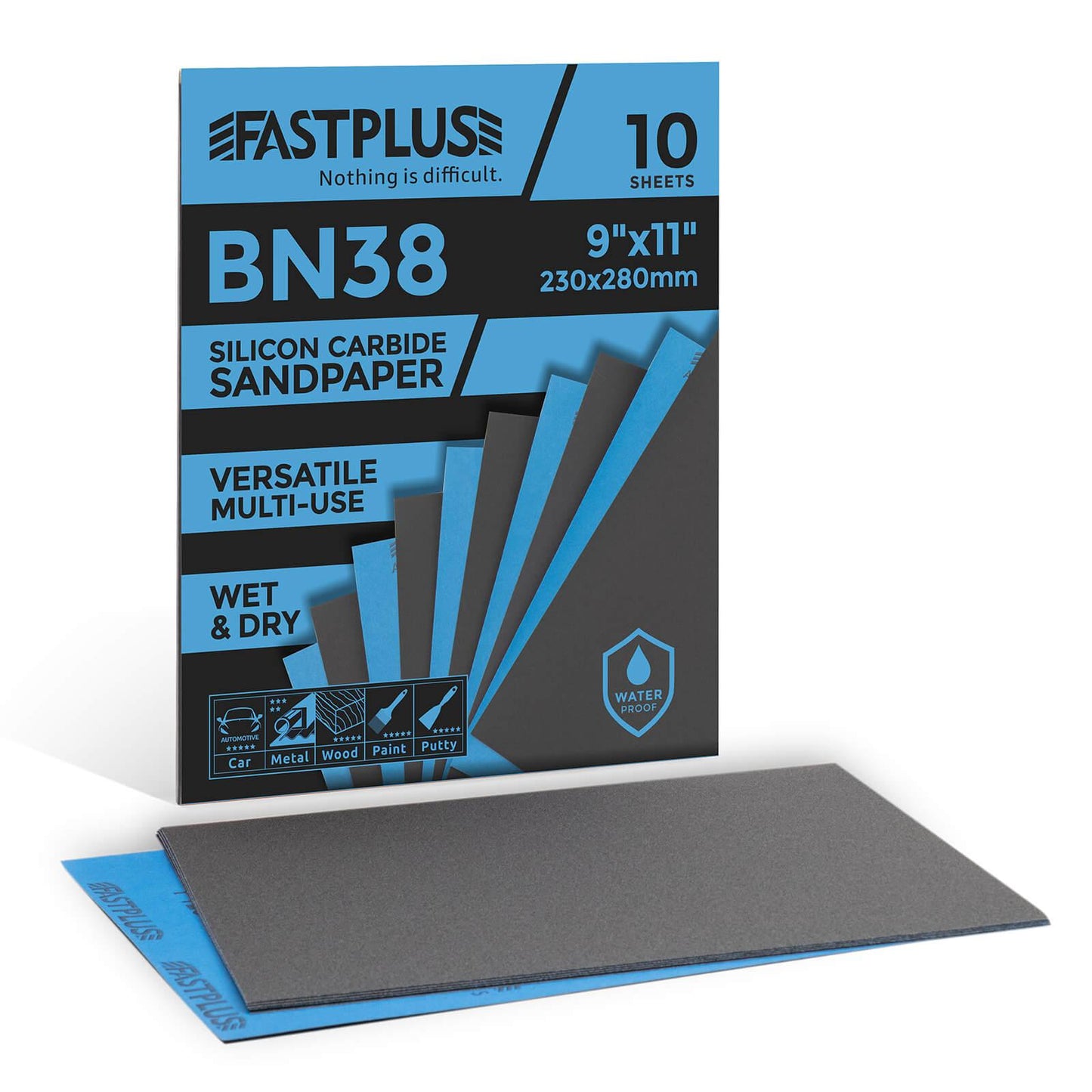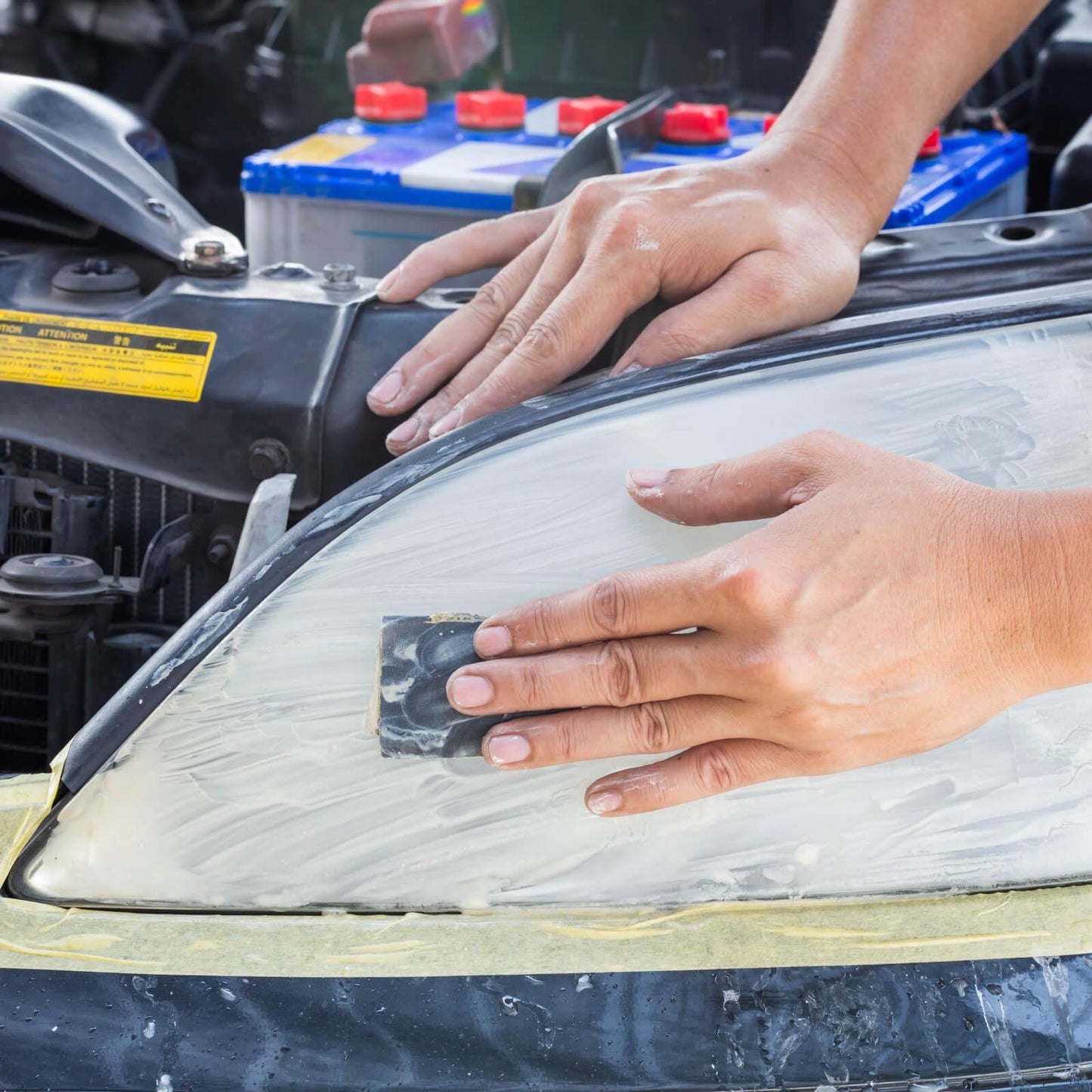 BN38 Sandpaper Sheets: Silicon Carbide 230x280mm / 9x11"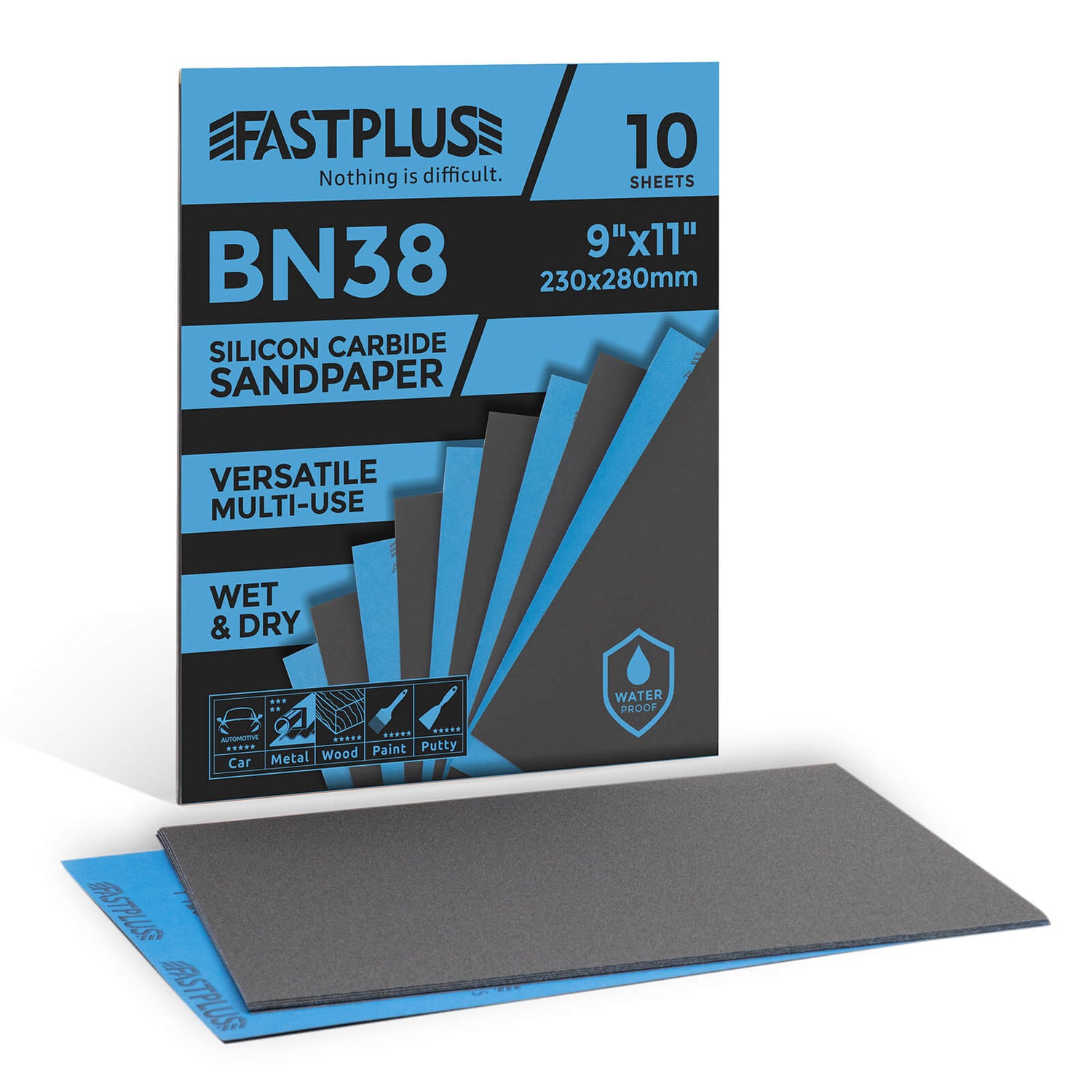 Features of Fastplus Waterproof Silicon Carbide Sandpaper Sheets

Fastplus Wet and Dry Sandpaper Sheets feature premium Silicon Carbide Grains that are resin on resin bonded onto 30% latex-backed paper. The silicon carbide sandpaper sheets can be used for wet or dry sanding but are most effective when used with water or a lubricant.
Fastplus Sheet Sandpapers can be cut to fit most power sanders or folded for optimum product life when hand sanding. Our sanding paper sheets work well on many types of surfaces for medium to light-duty applications.
Fastplus waterproof abrasive paper sheets are heat resistant, have exceptional grain adhesion, and thus are extremely effective in the automotive industry as well as on lacquers, paint, body fillers, glass, metal, plastics, stone, and marble.
This wet/dry sandpaper is available in 80 grit, 120 grit, 180 grit, 240 grit, 320 grit, 400 grit, 600 grit, 800 grit, 1000 grit, 1500 grit, and 2000 grit.

Waterproof Sandpaper Sheets Benefits:

Silicon Carbide Grain, Extremely Long-lasting
Quality Latex-Backed C-weight Paper
Waterproof, Use Wet and Dry Conditions
Fast cutting and very resistant to clogging
Grit Range Allowing for Sharp Cut to Very Fine Finish
Resists Heat with Great Grain Adhesion
Best to be used with lubricants
Closed coat structure for more material removal
Usage and Applications

Fastplus abrasive sandpaper sheets are ideal for hand sanding both wet and dry. Available in many grits and cut to fit various hand tools, the many varieties of abrasives and treatments provide user versatility for general-purpose sanding of many materials:

Body Fillers
Paint
Lacquers
Metal
Ferrous Metal
Non-Ferrous Metal
Stainless Steel
Composite
Wood
Granite
Marble
Glass
Plastic
PVC
Technical Details

Model: BN38 Wet-Dry Sandpaper
Size: 230mmx280mm / 9"x11"
Type: Waterproof, Wet or Dry
Grain: Silicon Carbide
Backing: 30% latex-backed paper
Color: Premium Black
Fastening: Cut to fit sanders, sanding blocks and hand tools
Grit Options: 80/120/180/240/320/400/600/800/1000/1500/2000
Packing Details & EAN

Quantity: 10 Sheets
Box Size: 232x282x5mm
Net Weight: 100g
Gross Weight: 165g

EAN Numbers of BN38 Sandpaper Sheet 230x280mm:
Grit: P80-10PCS ------------ EAN: 6382328100018
Grit: P120-10PCS ----------- EAN: 6382328100025
Grit: P180-10PCS ----------- EAN: 6382328100032
Grit: P240-10PCS ----------- EAN: 6382328100049
Grit: P320-10PCS ----------- EAN: 6382328100056
Grit: P400-10PCS ----------- EAN: 6382328100063
Grit: P600-10PCS ----------- EAN: 6382328100070
Grit: P800-10PCS ----------- EAN: 6382328100087
Grit: P1000-10PCS ---------- EAN: 6382328100094
Grit: P1500-10PCS ---------- EAN: 6382328100100
Grit: P2000-10PCS ---------- EAN: 6382328100117
How to Choose Right Grit

P80 For correcting heavy areas of unevenness.
P120 For roughening before priming or pickling.
P180 For initial sanding after priming.
P240 For initial wet sanding after priming.
P400 For smoothing filled surfaces.
P600 For fine sanding before painting. 
P800 For fine sanding before painting.
P1000 For final fine sanding before painting.
P1500 For final fine sanding before painting.
P2000 For final fine sanding before painting.
Fastplus Silicon Carbide Sandpaper Sheet 230x280mm
• BN38 • Silicon Carbide • 30% Latex-backed Paper • 230x280mm/9x11" • P80-2000 Coarseness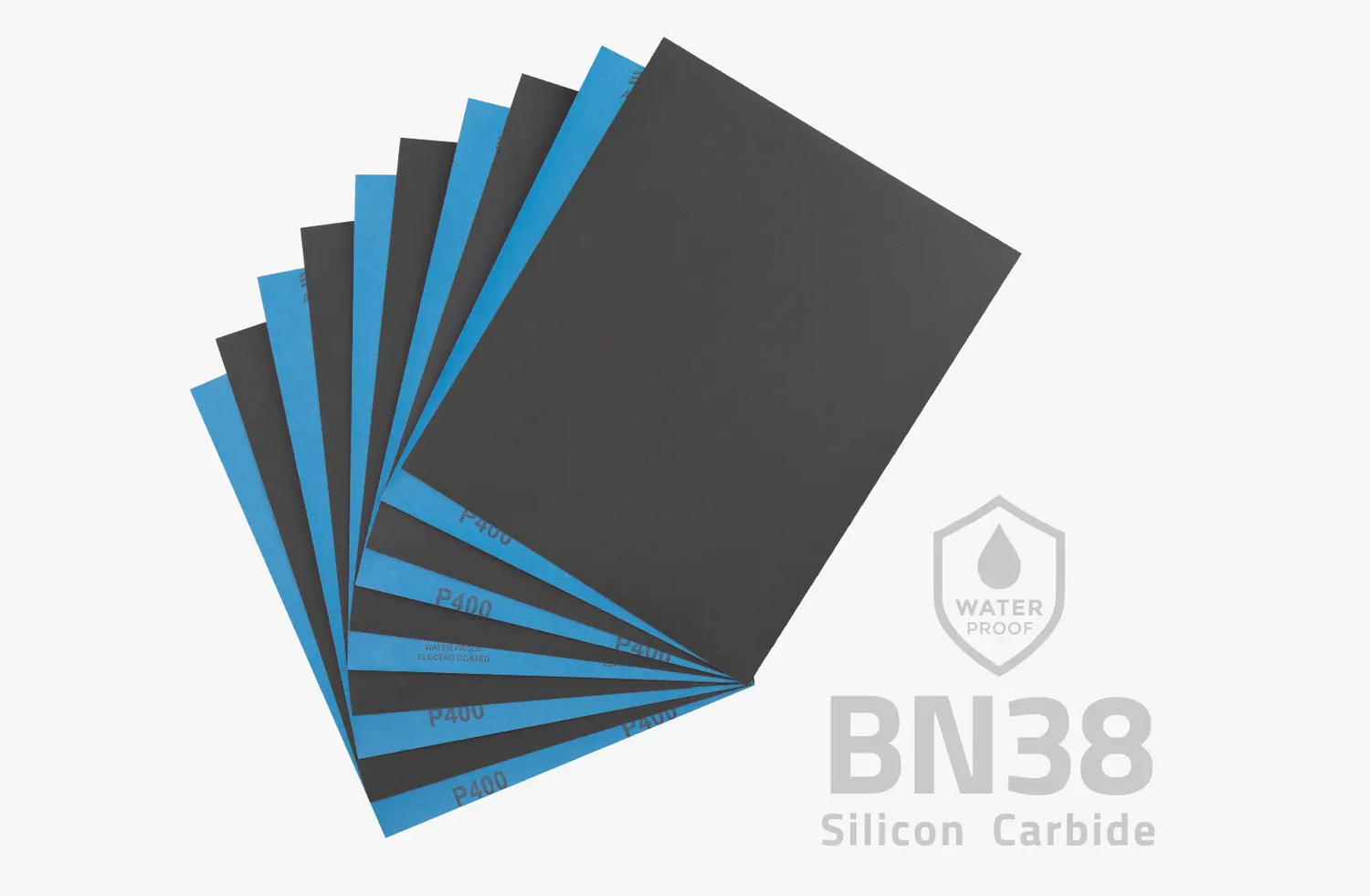 Wet and Dry Sandpaper Sheets
• Premium Silicon Carbide abrasives, high cutting power
• Higher efficient cutting and sanding performance
• 30% Latex-backed Paper for flexible wet sanding
• Cut to fit various sanders and hand tools
• More durable and longer service life
• Full coarseness: 80-2000 grits for different tasks
• Ideal for wet sanding of filler coats or painted surfaces
Versatile Wet or Dry Sanding
• Waterproof for wet or dry sandings
• Cut to fit all sanders or hand tools
• Suitable for coarse-to-fine sanding purposes
• Suitable for sanding almost all materials
• Wildly used in car repair, woodworking, etc.
Tolles Schleifpapier für die Autoaufbereitung
Ich habe dies zum Abschleifen meines Autos als Vorbereitung für die Lackierung verwendet und es hat perfekt funktioniert. Die Körnung hält länger, und es ist einfach, mit zu arbeiten.
Ich werde auf jeden Fall wieder zu kaufen es wieder.
Perfekte Produkte!
Ich hatte eine Menge Orangenhaut auf meiner Lackierung und es schleift den Klarlack perfekt ab. Auch langlebig.
Funktioniert hervorragend
Funktioniert hervorragend beim Ausfüllen von tiefen Kratzern mit der Methode auf YouTube und einem Lackstift. Das Schleifpapier hat lange gehalten und ich musste nicht einmal zu anderen Stücken wechseln. Sie können die Ergebnisse sehen!
Paper last a long time when wet sanding!
I purchased this paper just for wet sanding an auto before painting. The sandpaper lasted for a very ling time, even when it had been soaked and was nearly falling apart. Am very happy with the performance of the sandpaper.
Excellent on Pool Tile
This works great on pool tile calcium stains on ceramic (not porcelain) pool tiles. It not only removes the calcium, but it also smoothes the nook and crannies that the calcium adheres to. So everytime I sand the tile, the less calcium builds up on the tile the following year