CERAMIC MAKES SANDING FASTER
Regular price
Sale price
€15,99
Unit price
per
Sale
Sold out
In stock
Factory-direct Prices

30-Day Money Back

Fast Flat Shipping
The Sanding Discs Containing Ceramic Grains, BETTER!
• Premium ceramic alumina grain, cut faster and sharper
• Hook-and-loop system, easy to changeover
• Universal 15-hole pattern for all 150mm sanders
• Durable and longer service life
• Full range of coarseness: P40-P800 grits
• Cost-effective abrasive paper discs
• Wildly used in car preparation, woodworking, and MORE.
TECHNICAL DETAILS

F15 Gold Sanding Discs Hook and Loop (Velcro) 
Size: 150mm (6")
Perforation: 15 holes
Color: Premium Gold
Grain: Ceramic Alumina
Fastening: Velcro for random orbital sanders
Grits: P40/60/80/120/180/240/320/400/600/800
Quantity Per Box: 50 pieces
PACKING & EAN CODE

Quantity: 50 pieces
Box Size: 155x155x45mm
Net Weight: 0.35kg
Gross Weight: 0.55kg

EAN Numbers of 150mm 15H F15 Sanding Discs:
EAN: 6151501500019 (Grit: P40)
EAN: 6151501500026 (Grit: P60)
EAN: 6151501500033 (Grit: P80)
EAN: 6151501500040 (Grit: P120)
EAN: 6151501500057 (Grit: P180)
EAN: 6151501500064 (Grit: P240)
EAN: 6151501500071 (Grit: P320)
EAN: 6151501500088 (Grit: P400)
EAN: 6151501500095 (Grit: P600)
EAN: 6151501500101 (Grit: P800)
SHIPPING INFORMATION

The shipping and delivery of fastplus.eu will cover the following EU countries and regions:
Domestic delivery (Germany)
and the following EU countries: Belgium, Denmark, France, Italy, Netherlands, Poland, Portugal, Sweden, Spain, Czech Republic, Austria, Switzerland

Shipping Costs (including VAT)

Delivery times
Unless a different period is specified in the respective offer, the goods are delivered domestically (Germany) within 3 - 5 business days, for deliveries abroad within 4 - 10 business days after the conclusion of the contract.
HOW TO CHOOSE THE RIGHT GRIT

P40 For removing thick layers of rust and lacquer.
P60 For pre-treating unprocessed surfaces.
P80 For correcting heavy areas of unevenness.
P120 For roughening before priming or pickling.
P180 For initial sanding after priming.
P240 For initial wet sanding after priming.
P400 For smoothing filled surfaces.
P600 For fine sanding before painting.
P800 For final fine sanding before painting.
View full details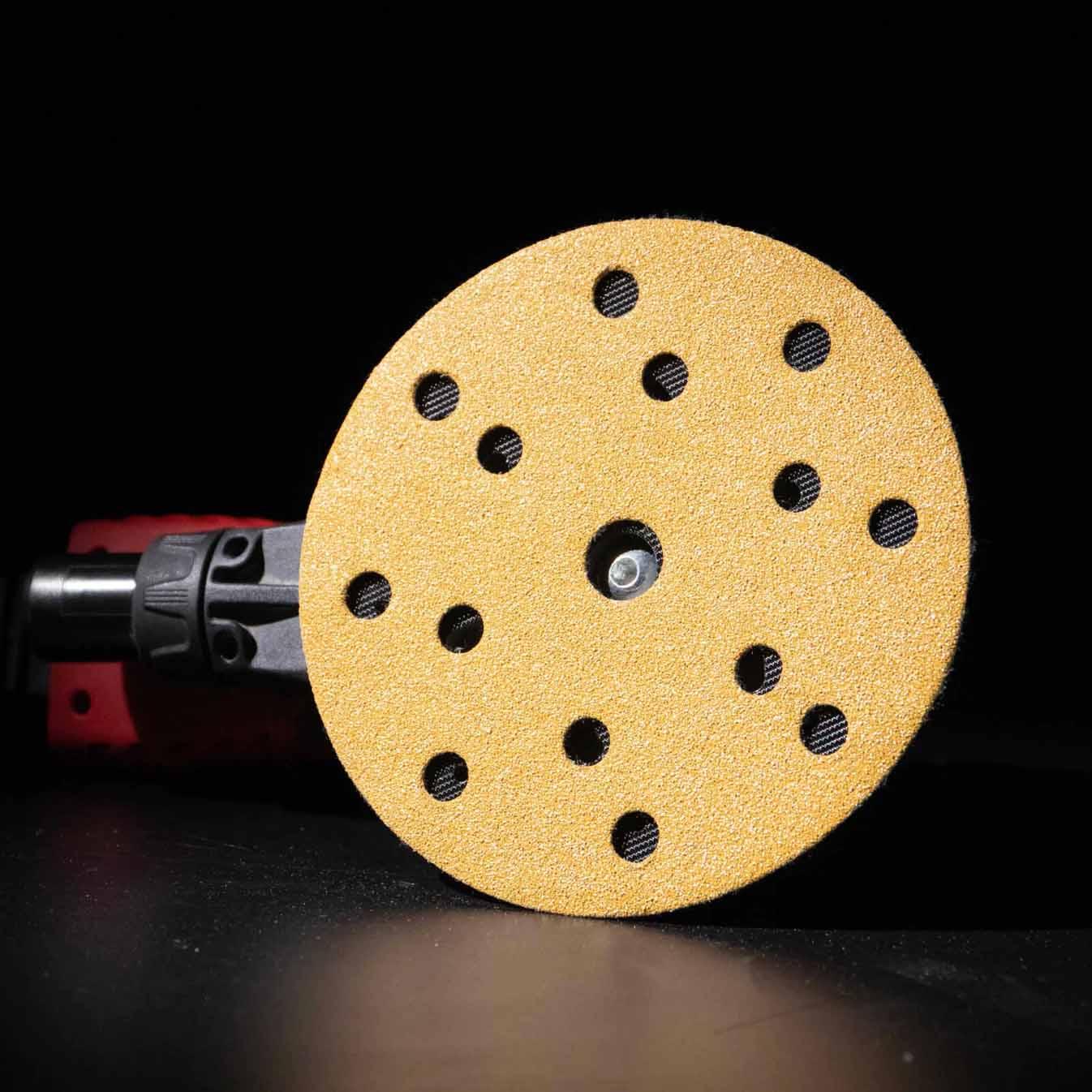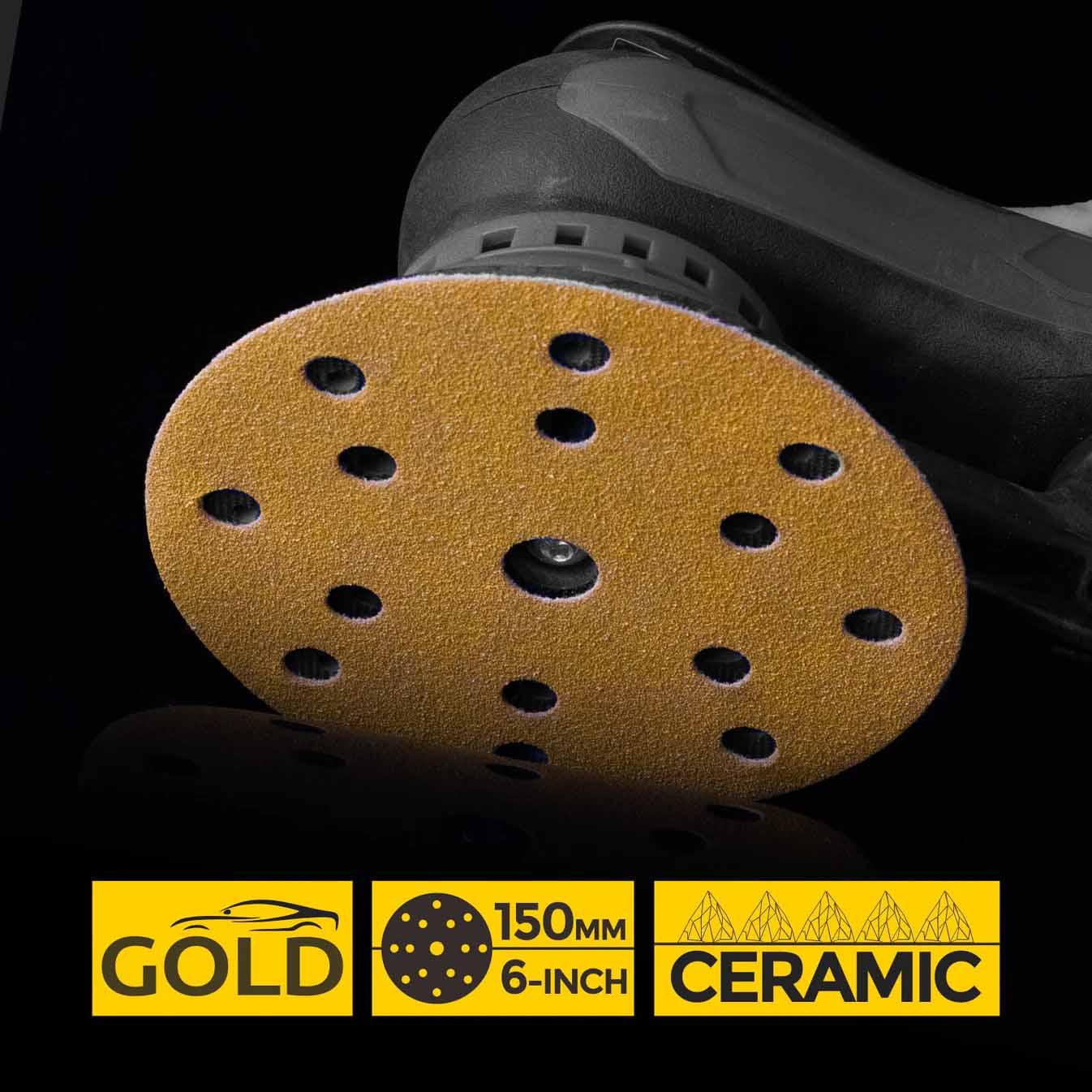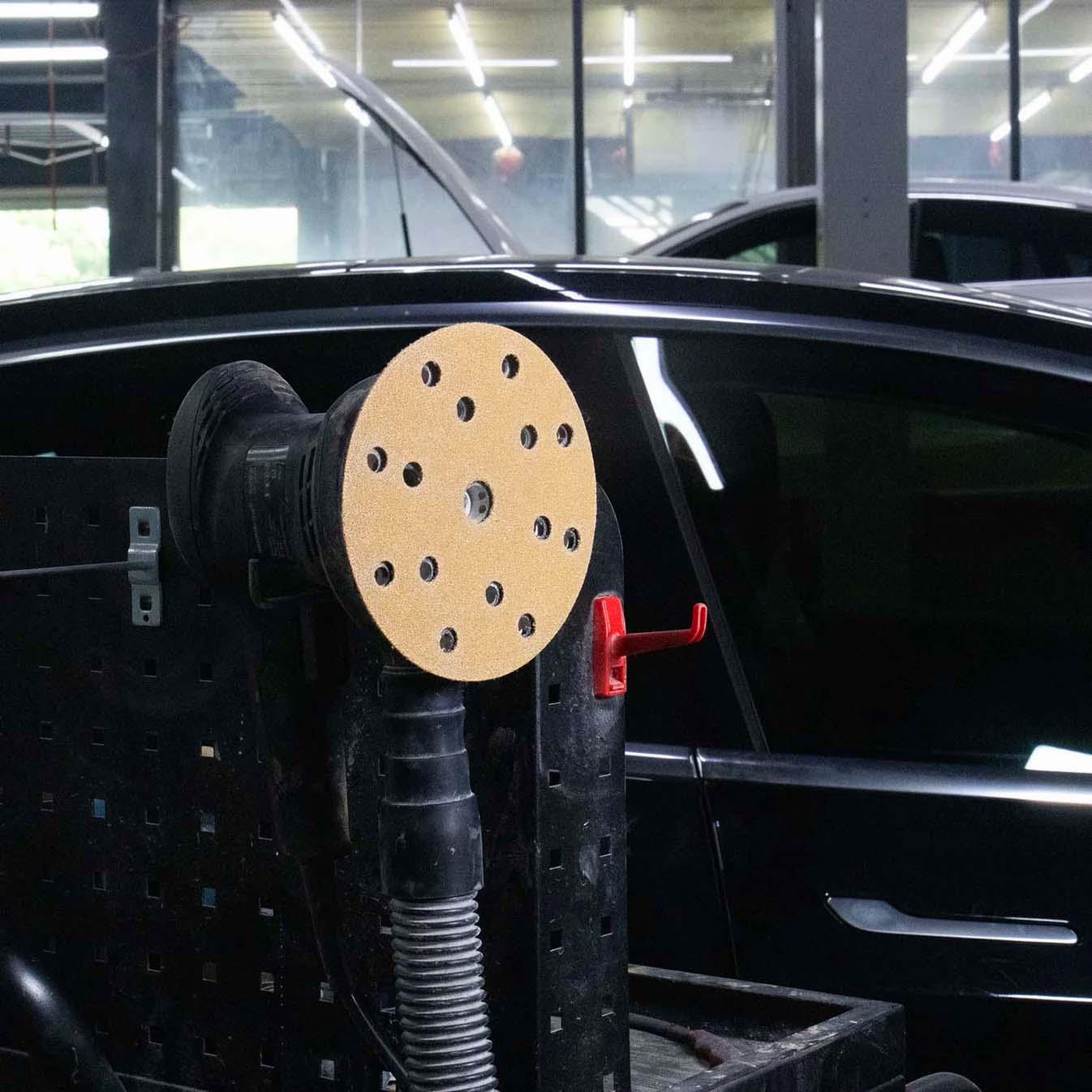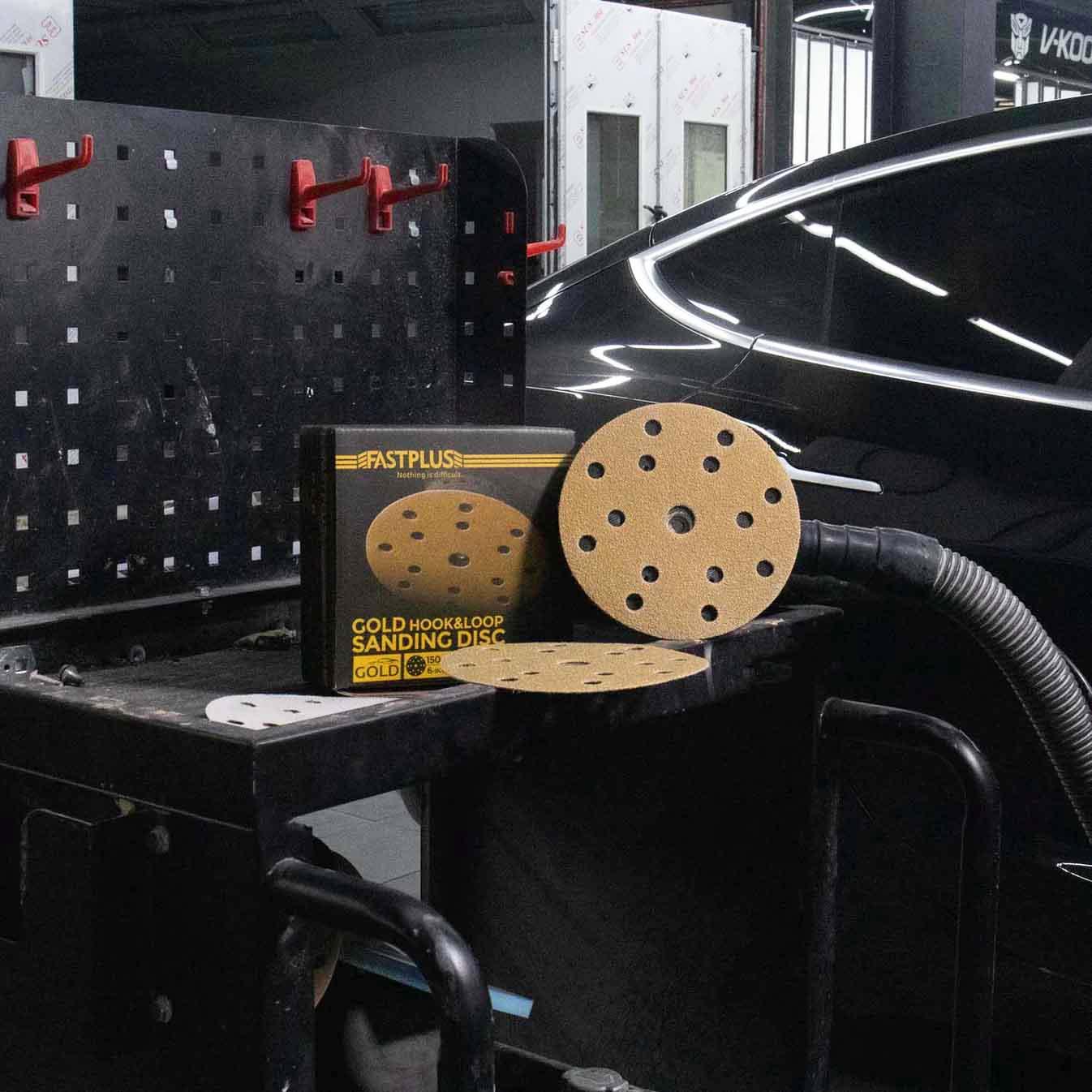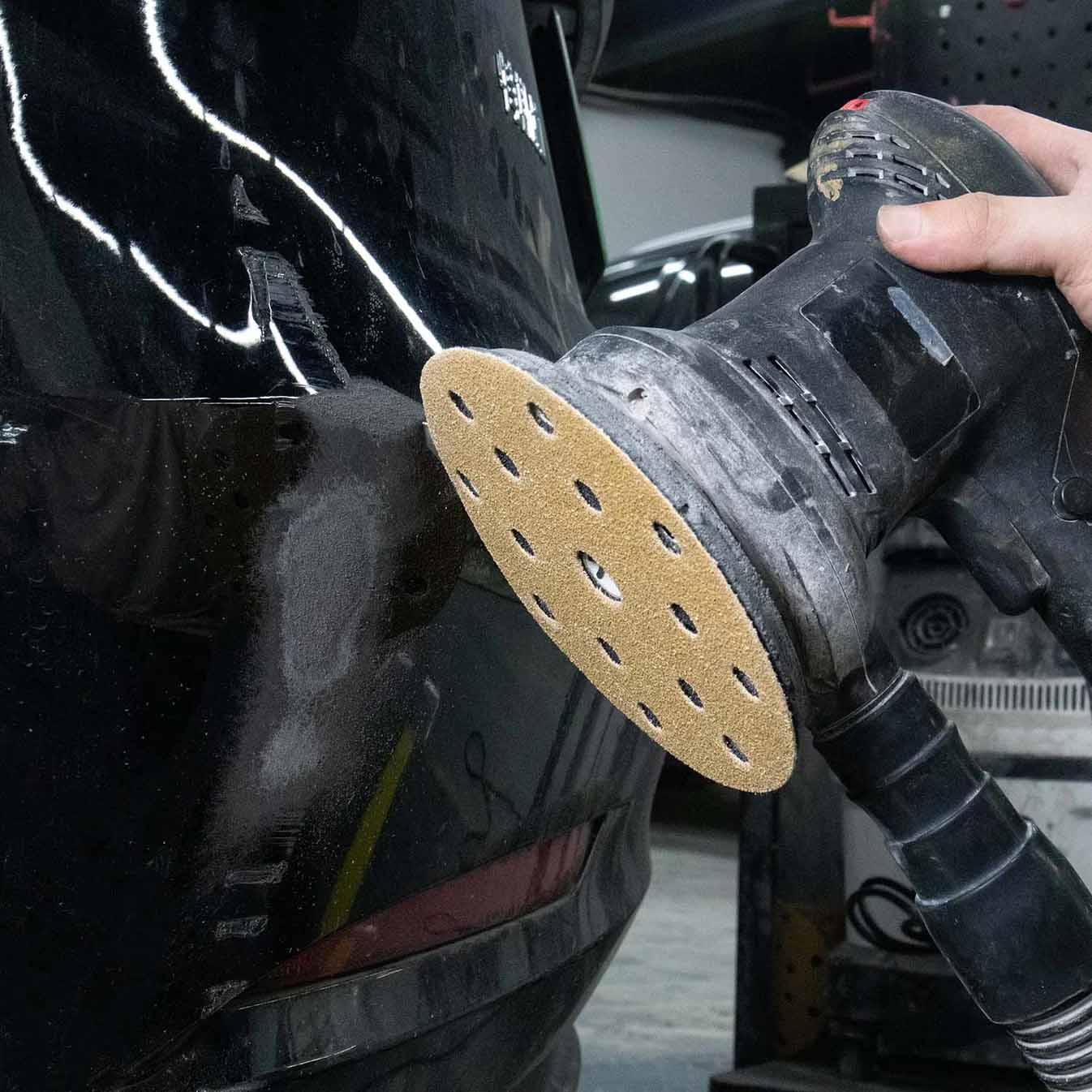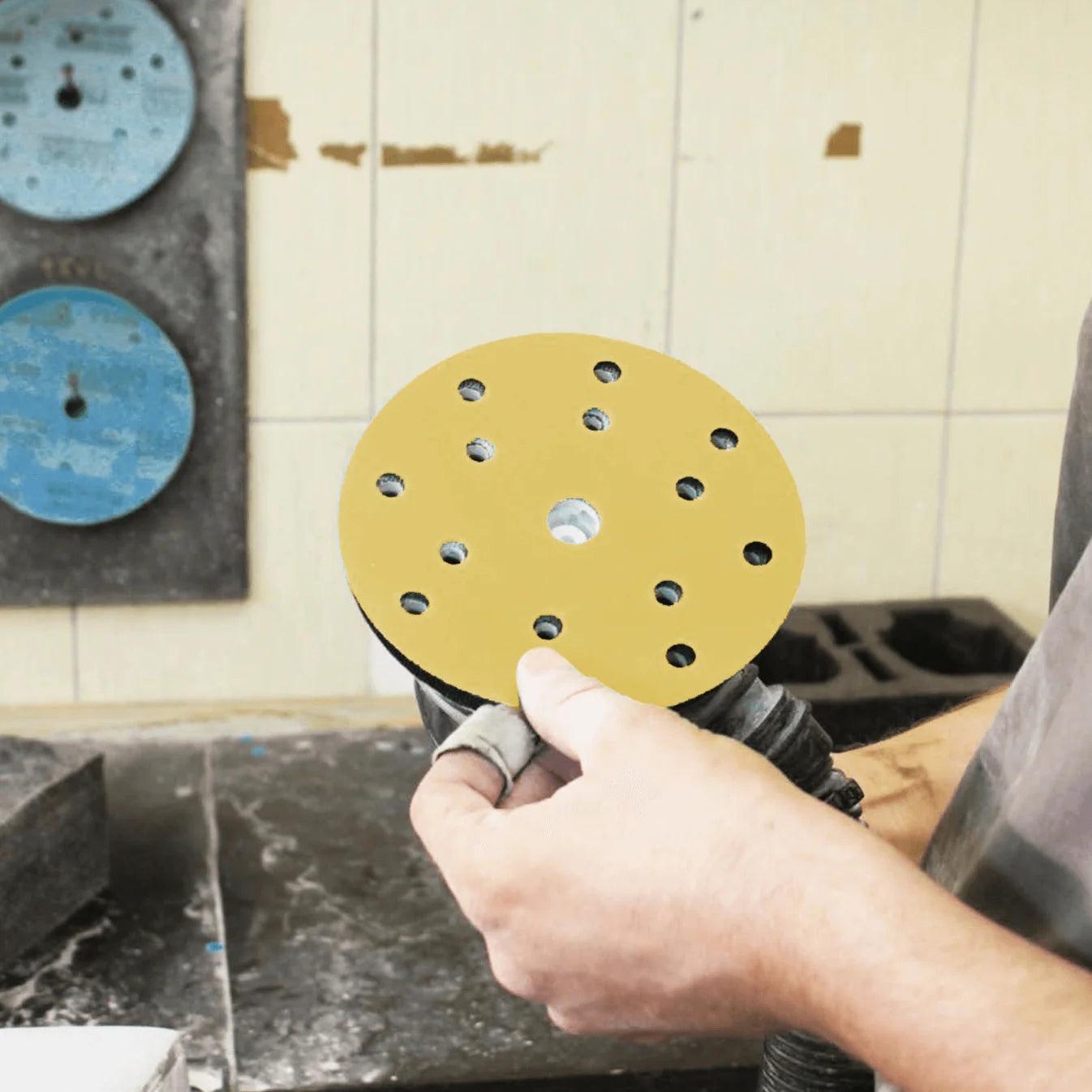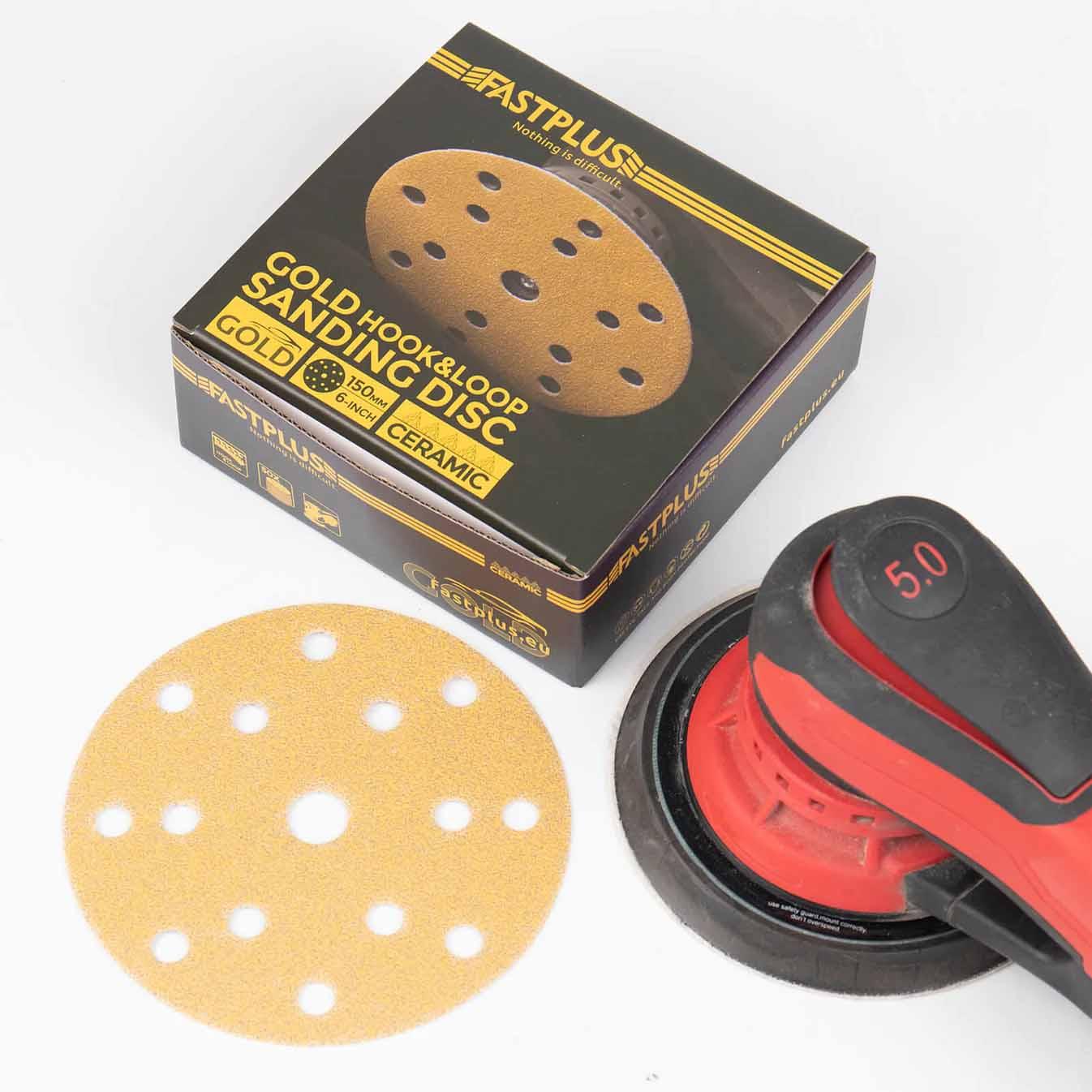 Sanding Your Projects with Budget-friendly Ceramic Sanding Discs: Buy F15 Gold Abrasive Discs here.
• F15 • Ceramic Alumina • Velcro • 150mm/6" • Gold • 15 Holes • P40-P400 Coarseness • For Automotive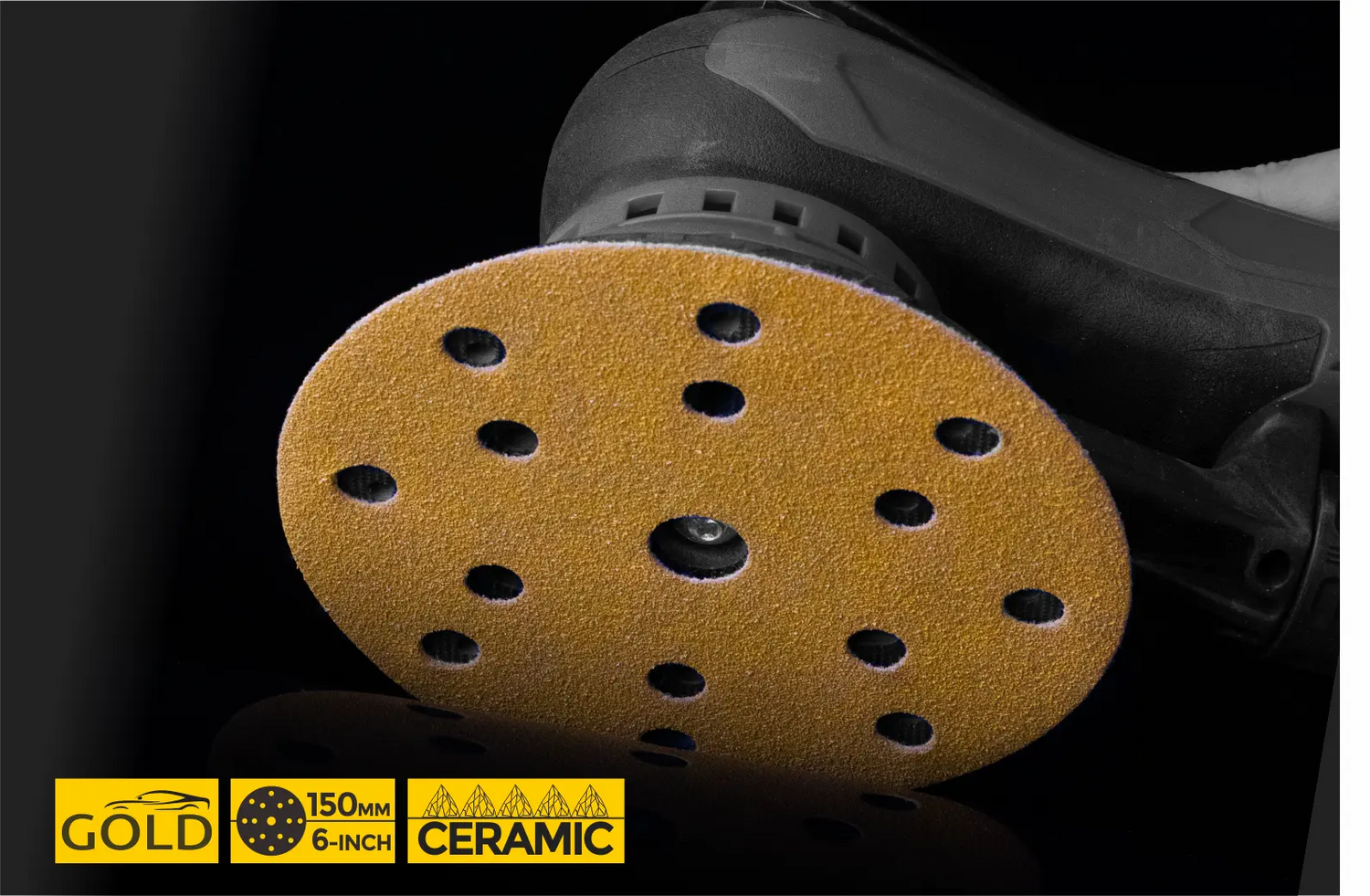 Fastplus hook & loop sanding discs are made with premium ceramic alumina, come with different sizes, holes, grits and shapes, highly recommended for autobody use, wood sanding, sanding of bare metal, primer, primer surface, between coats of paint and on solid surface countertops.
Universal-fit

• Premium ceramic alumina coated abrasives
• Hook-and-loop system, easy to changeover
• Universal15-hole pattern for all sanders
• Durable and long service life
• Full range of coarseness: 40-800 grits
• Cost-effective abrasive paper discs

Versatile

• Fit for all orbital sanders and hand tools
• Suitable for coarse-to-fine sanding purposes
• Suitable for sanding almost all materials
• Wildly used in car repairing, woodworking and etc.
Preis Leistung überzeugt
Ich bin begeistert vom Preis Leistungsverhältnis... mit teuren Scheiben aus dem Baumarkt ereiche ich bei weitem nicht die Fläche wie mit diesen Scheiben... ich kaufe definitiv wieder... wird aber etwas dauern da sie in meinen augen sehr lange durchhalten...
Der Schleifteller erledigt den Job
Gutes Produkt. Die Schleifscheiben halten sich gut, um die Jobe getan zu bekommen. Guter Kauf.
Gut zum Entfernen von Autolack
Es scheint, dass negative Bewertungen für dieses Produkt entweder auf Inkompetenz oder inkompatible Geräte zurückzuführen sind. Ich persönlich habe mit 25 Pads von K60 großen Erfolg gehabt, um Farbe von mehr als der Hälfte meines Lemans-Fahrzeugs und von verschiedenen Holzprojekten zu entfernen. Insgesamt bin ich mit dem Produkt zufrieden und plane, die K180, K400 und K600 Optionen für die Grundierung zu kaufen.
Danke Hermann. Deine Anerkennung lässt uns aufmuntern.
Best deal on sanding discs
Very happy with this product. Real long lasting, hard working sanding disc.
Langlebiger als andere Marken
Das ist das beste Schleifpapier, das ich je benutzt habe!! Nachdem ich 10 Minuten lang Farbe vom Holz abgeschliffen hatte, sah es immer noch wie neu aus. Sie überdauern alles, was ich bisher benutzt habe. Werde es wieder bestellen.