Regular price
Sale price
€7,59
Unit price
per
Sale
Sold out
In stock
Sanding Strips Gold F15 for Car refinish, Metal, Wood
Size: 70x125mm / 2.75"x5"
Type: Hook-and-loop (Velcro)
Grain: Ceramic Alumina Minerals
Perforation: 8 holes
Color: Premium Gold
Fastening: Velcro for orbital sanders, hand sanding blocks
Grit Options: 60/80/120/150/180/240/320/400
Quantity Per Box: 25 sheets
View full details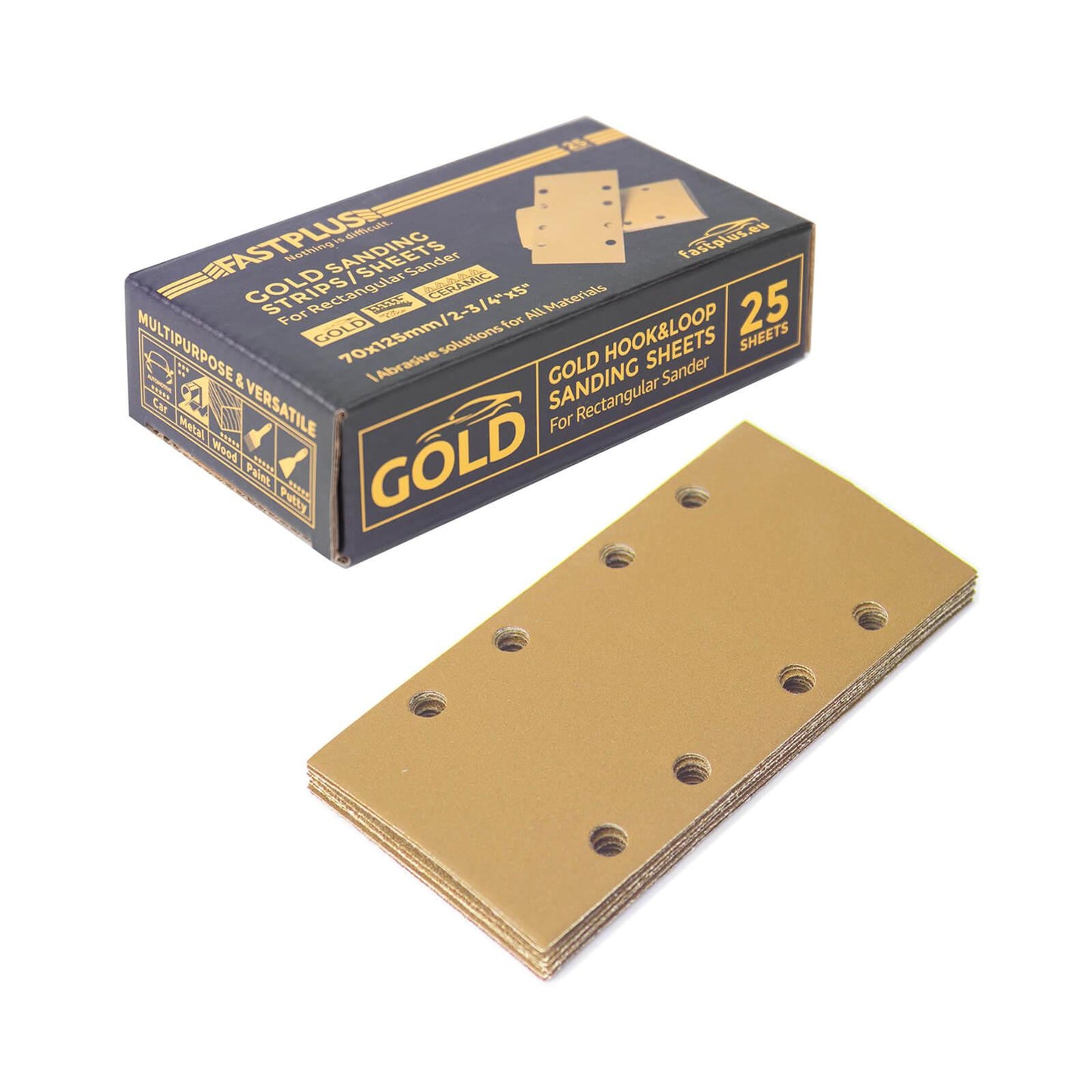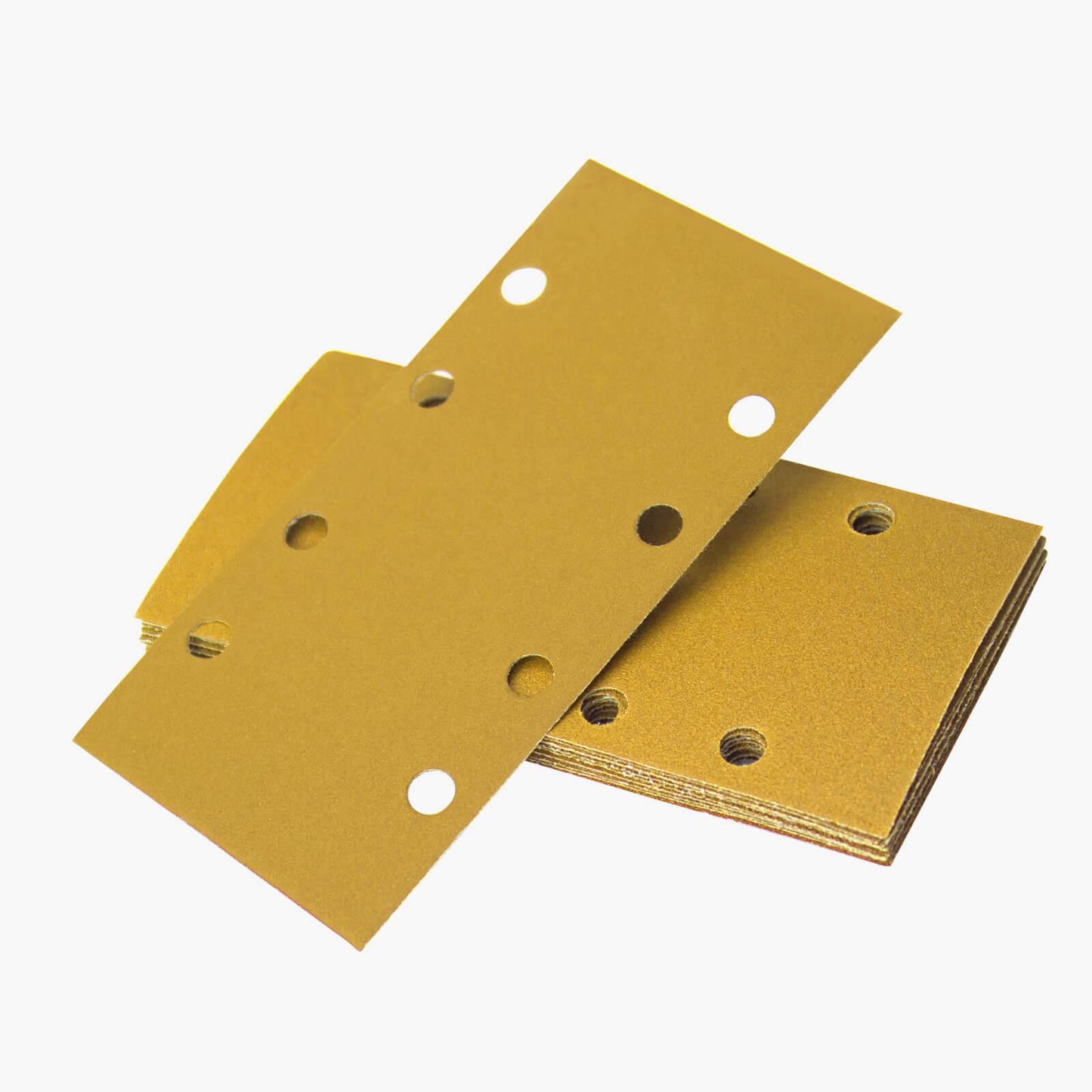 F15 Gold Velcro Sanding Strips 70x125mm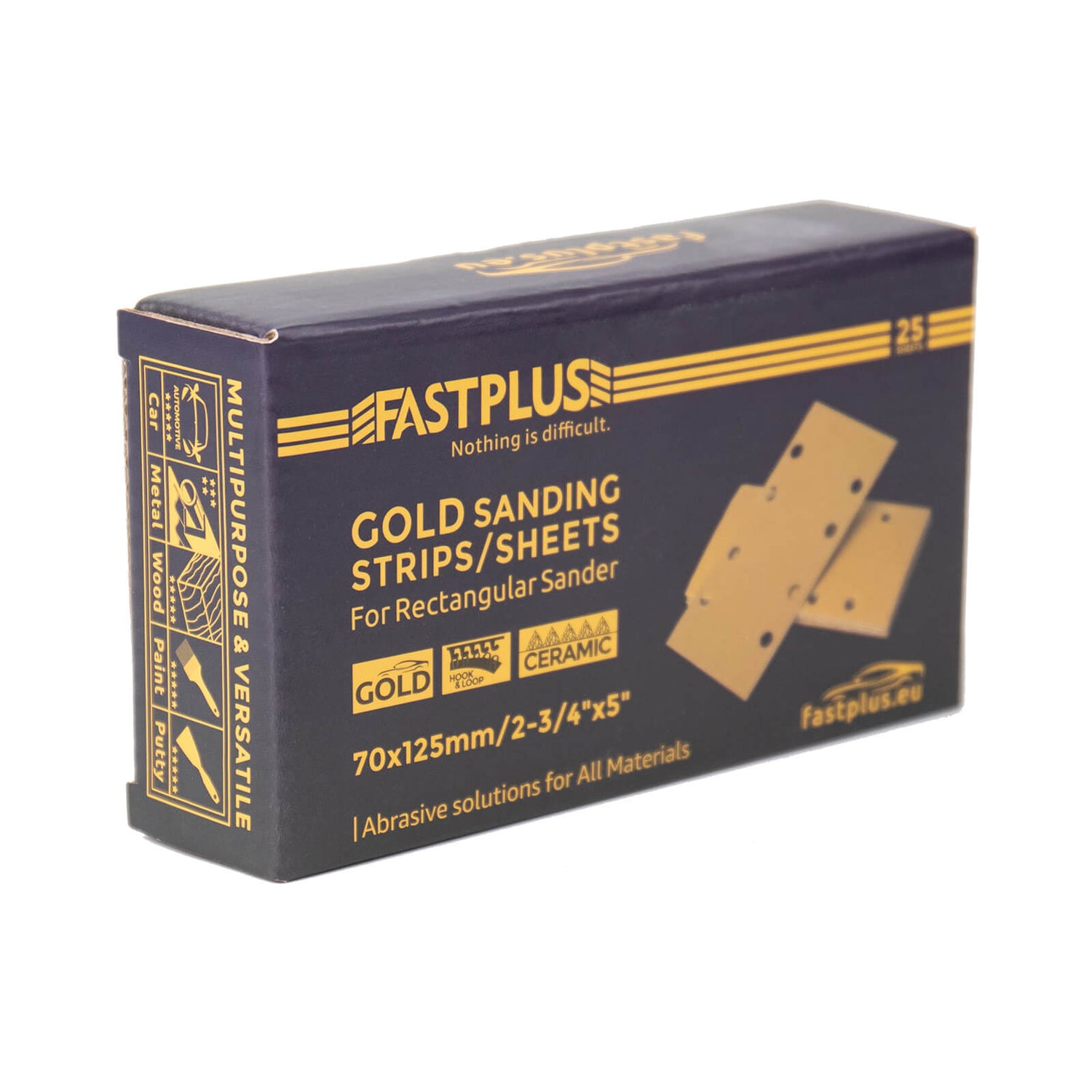 About F15 Sanding Strips

Different than conventional aluminium oxide or silicon carbide sanding sheets, Fastplus™ F15 Gold sanding strips or sanding sheets are made of premium ceramic alumina grain which is cutting faster, lasts longer, and is relatively cost-effective.
F15 Gold sanding strips are specially stearate coated to deliver high anti-clogging which are greatly optimized the sanding performances. Fastplus™ Gold sanding sheets come with 70x125mm and 8 perforated holes which are perfectly fit all standard eccentric sanders and hand sanding blocks with dust collection and manual sanding tools and suitable for high-speed sanding in multi-purpose applications.
The 70x125mm Gold sanding strips are used for sanding on materials: Body fillers, paint, lacquers, metal, ferrous metal, non-ferrous metal, stainless steel, composite, wood, granite, marble, glass, plastic, and PVC.
Technical Details

Model: F15 Sanding Strips or Sanding Sheets
Size: 70x125mm / 2.75"x5"
Type: Hook-and-loop (Velcro)
Grain: Ceramic Alumina Minerals
Perforation: 8 holes
Color: Premium Gold
Fastening: Velcro for orbital sanders/hand tools
Grit Options: 60/80/120/150/180/240/320/400
Quantity Per Box: 25 sheets
Packing Details & EAN

Quantity: 25 Sheets
Box Size: 132x75x35mm
Net Weight: 0.100kg
Gross Weight: 0.200kg

EAN Numbers of 70X125MM 8H F15 Sanding Strips:
Grit: P60-25PCS ------------ EAN: 6157012580014
Grit: P80-25PCS ------------ EAN: 6157012580021
Grit: P120-25PCS ----------- EAN: 6157012580038
Grit: P180-25PCS ----------- EAN: 6157012580045
Grit: P240-25PCS ----------- EAN: 6157012580052
Grit: P320-25PCS ----------- EAN: 6157012580069
Grit: P400-25PCS ----------- EAN: 6157012580076
How to Choose Right Grit

P60 For pre-treating unprocessed surfaces.
P80 For correcting heavy areas of unevenness.
P120 For roughening before priming or pickling.
P180 For initial sanding after priming.
P240 For initial wet sanding after priming.
P400 For smoothing filled surfaces.
Buy Fastplus™ Gold Sanding Strips at Factory-direct Price Online.
• F15 • 70x125mm • Ceramic Alumina • Hook-and-loop • 8 Holes • P60-400 Coarse-to-Fine • For Car Refinish, Metal, Wood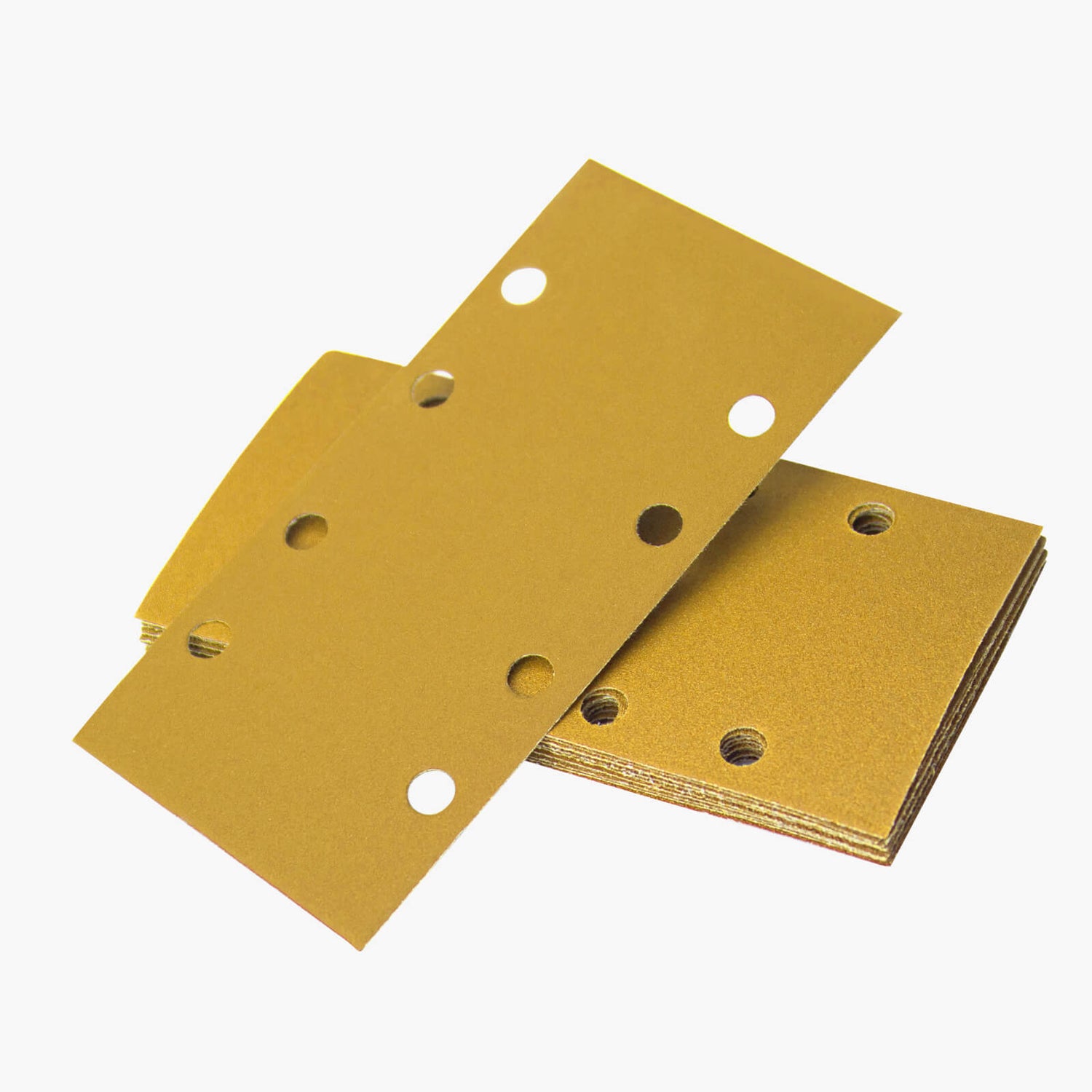 Gold Ceramic Sanding Strips
70x125mm Universal-fit
Ceramic Alumina sandpaper
8-hole for dust suction
Hook-and-loop, strong grip
Flexible for corner and rounded surfaces
Anti-clogging and edge wear resistance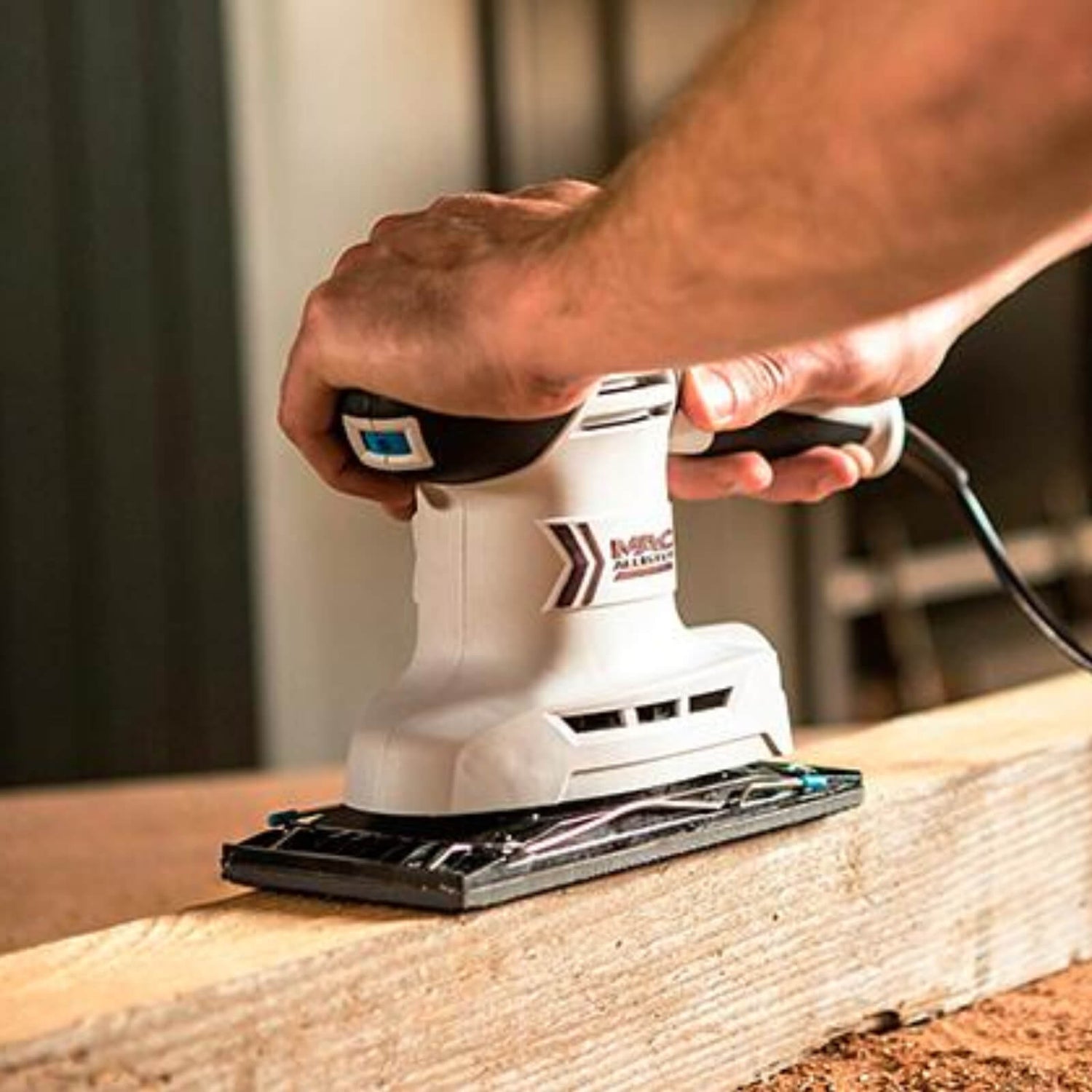 Versatile Sanding
Fit for power or hand sanding
Suitable for coarse-to-fine sanding purposes
Suitable for sanding almost all materials
Ideal for corners and hard-to-reach places
Wildly used in car refinish, woodworking and etc.
Durable
I wet sand rocks and stones. This sand paper holds up well. Worth the money.
Great quality
Works great in tight spaces. Sandpaper is thick enough that it can be used by itself in very small areas.
Works really well.
Easy to use and gets the job done.