FILM DISC & INTERFACE PAD, ALL IN ONE
Regular price
Sale price
€21,59
Unit price
per
Sale
Sold out
In stock
Factory-direct Prices

30-Day Money Back

Fast Flat Shipping
The Innovative Integration of Film Disc and Interface Pad
• Silicon carbide grain for gentle sanding and polishing
• No damage or over-sanding to treated surfaces
• Super soft foam: Comfortable and pressure evenly
• Provide uniform scratch depth and pattern for better finish
• 181 vacuuming hole for better dust extraction
• Super flexible for use on contour or curved surfaces
• Reduce the time spent on compounding
• Waterproof, ideal for wet or dry sanding
TECHNICAL DETAILS

Soft+ foam Film Discs for Sanding, Buffing & Finishing
Model: FF12 Hook-and-loop Grip
Size: 150mm (6") + 3mm super soft foam pad
Grain: Silicon Carbide mineral
Construction: Integration of film disc and foam backing pad
Perforation: 181 multi-hole pattern
Color: Milky White
Fastening: Velcro for orbital sanders, sanding blocks
Grits: P1500, P2000, P3000
Quantity Per Box: 15 pieces
PACKING & EAN CODE

Quantity: 15 pieces per box
Box Size: 155x155x52mm
Net Weight: 0.350kg
Gross Weight: 0.475kg

EAN Numbers of 150mm SOFT+ Foam Film Sanding Discs Multi-hole:
EAN: 6121501510011 (Grit: P1500)
EAN: 6121501510028 (Grit: P2000)
EAN: 6121501510035 (Grit: P3000)
SHIPPING INFORMATION

The shipping and delivery of fastplus.eu will cover the following EU countries and regions:

Domestic delivery (Germany)
Main EU countries: Belgium, Denmark, France, Italy, Netherlands, Poland, Portugal, Sweden, Spain, Czech Republic, Austria, Switzerland

Shipping Costs will be calculated at checkout.

Delivery times
Unless a different period is specified in the respective offer, the goods are delivered domestically (Germany) within 3 - 5 business days, for deliveries abroad within 4 - 10 business days after the conclusion of the contract.
View full details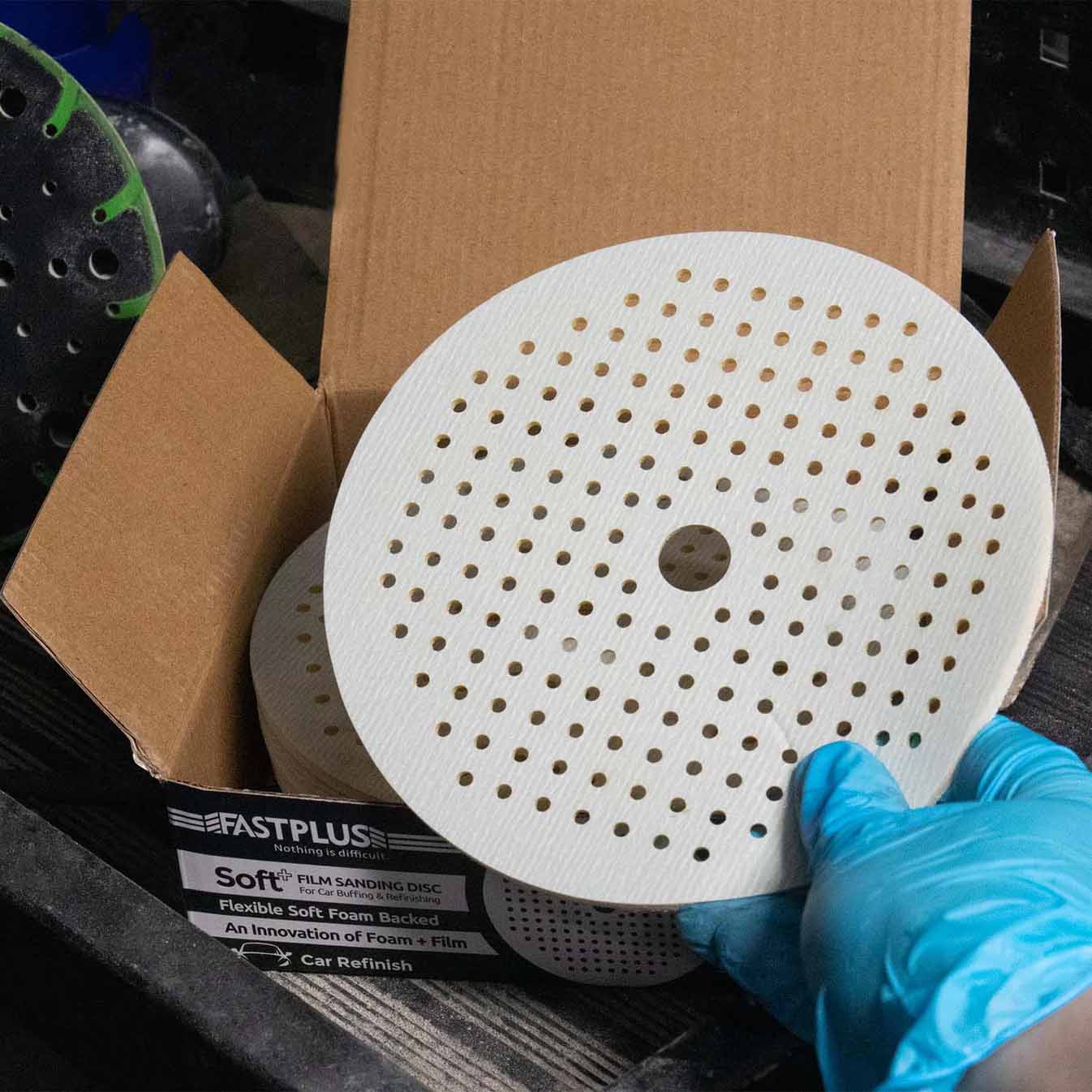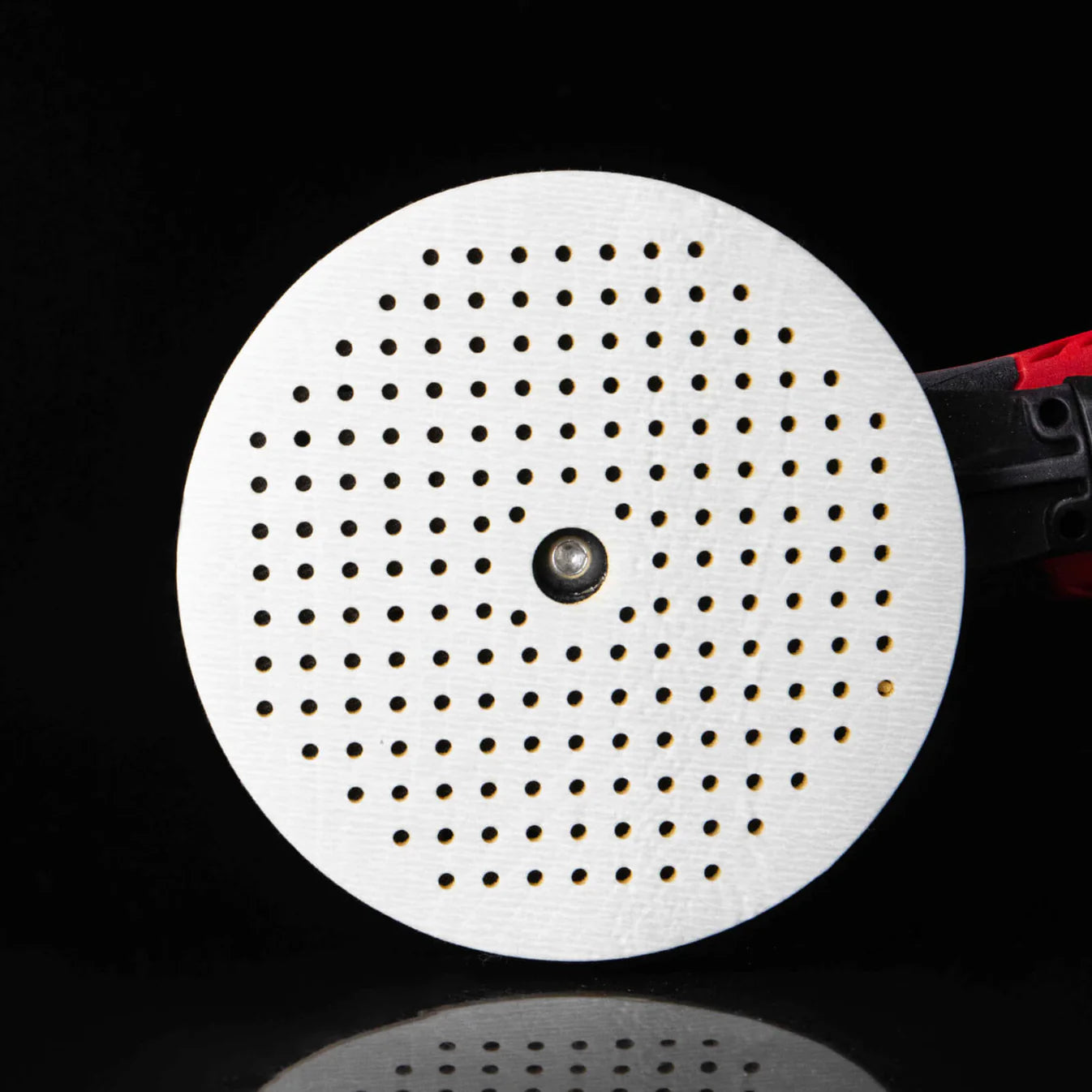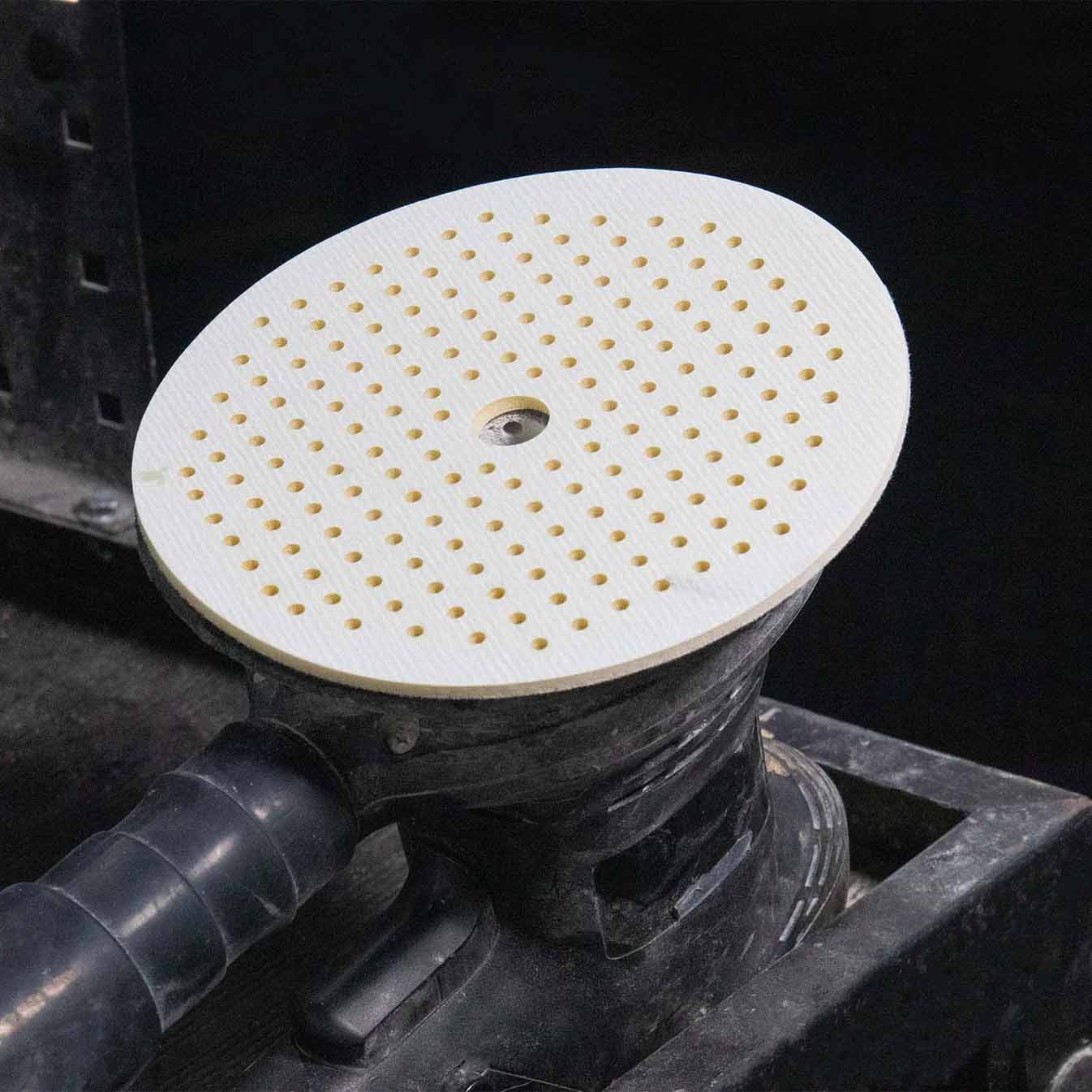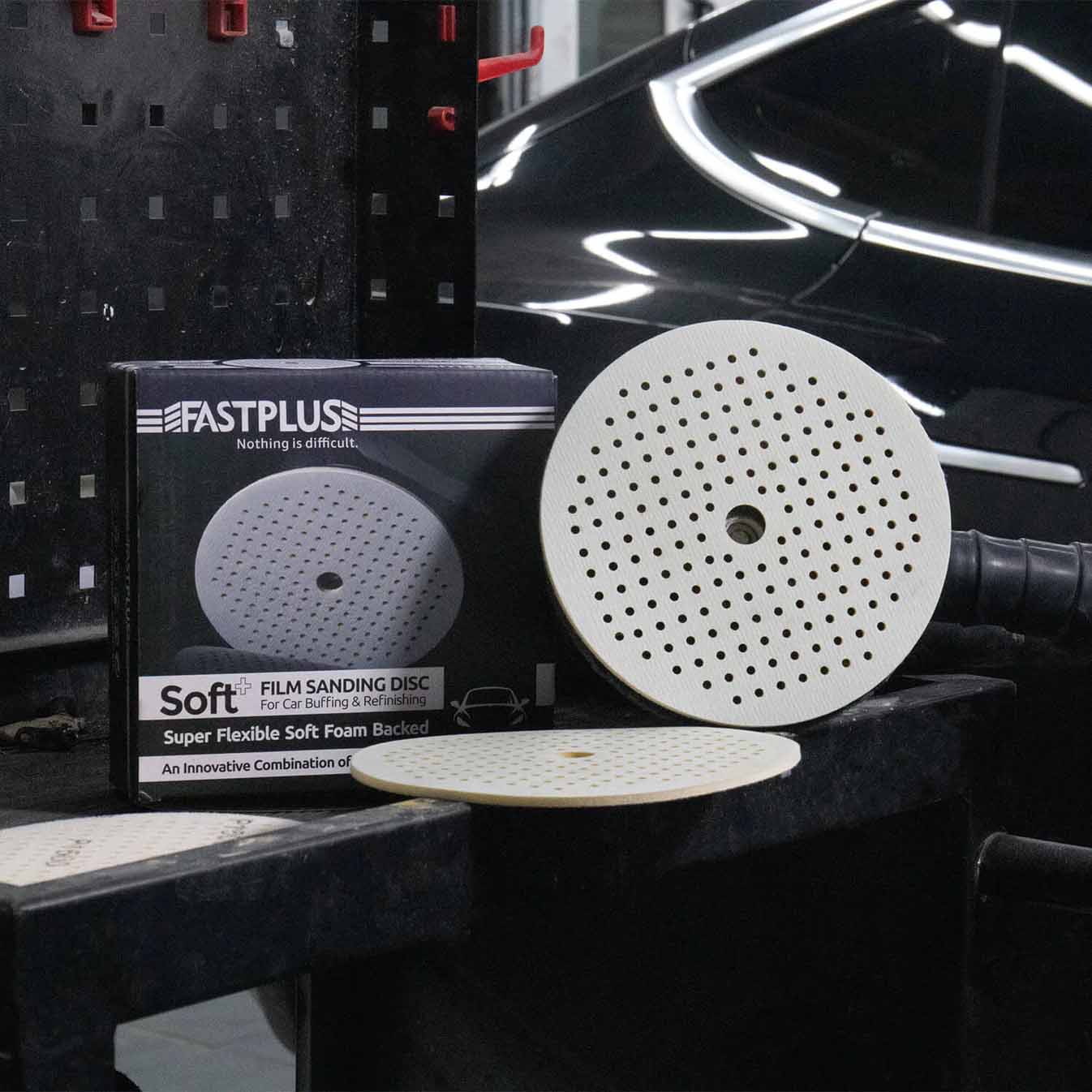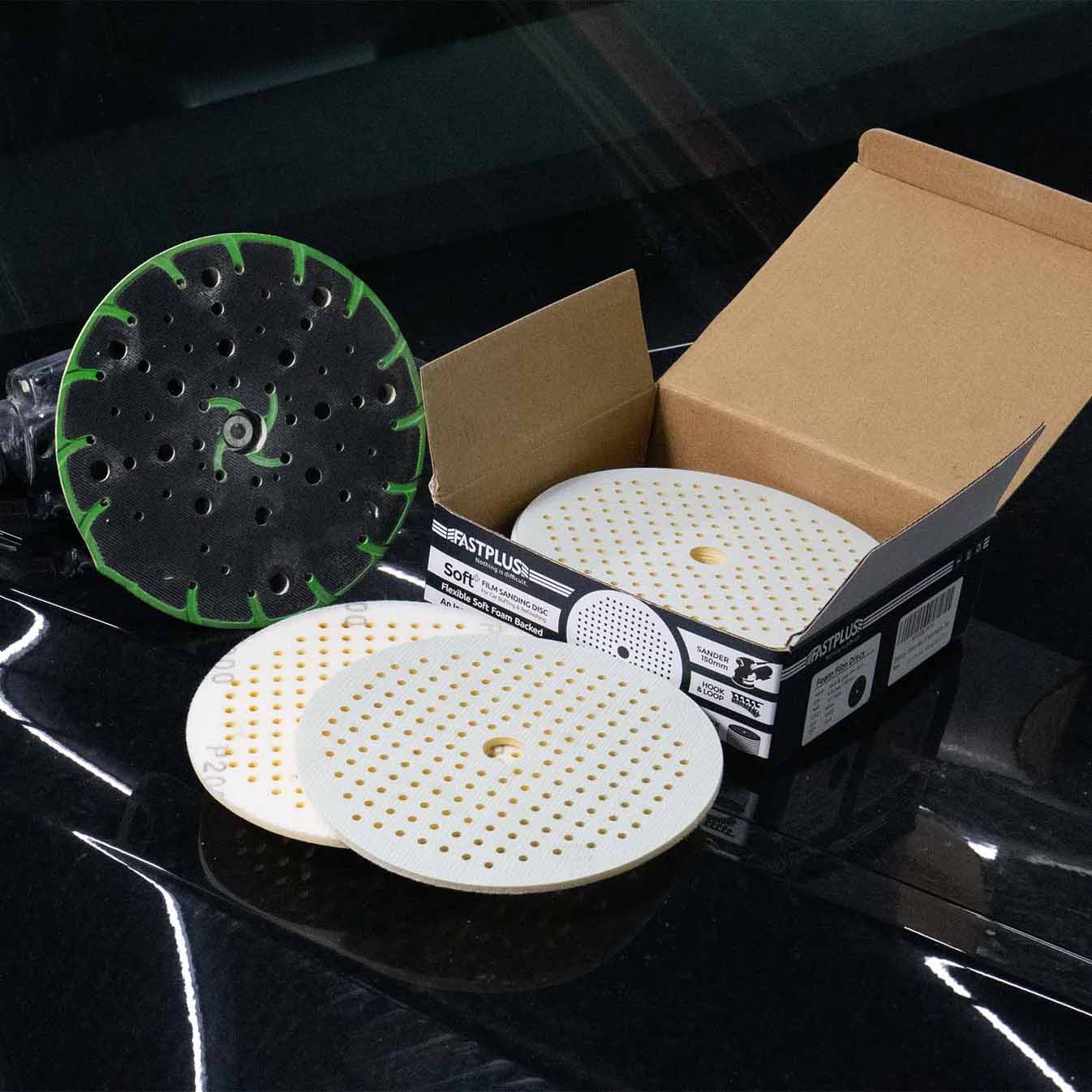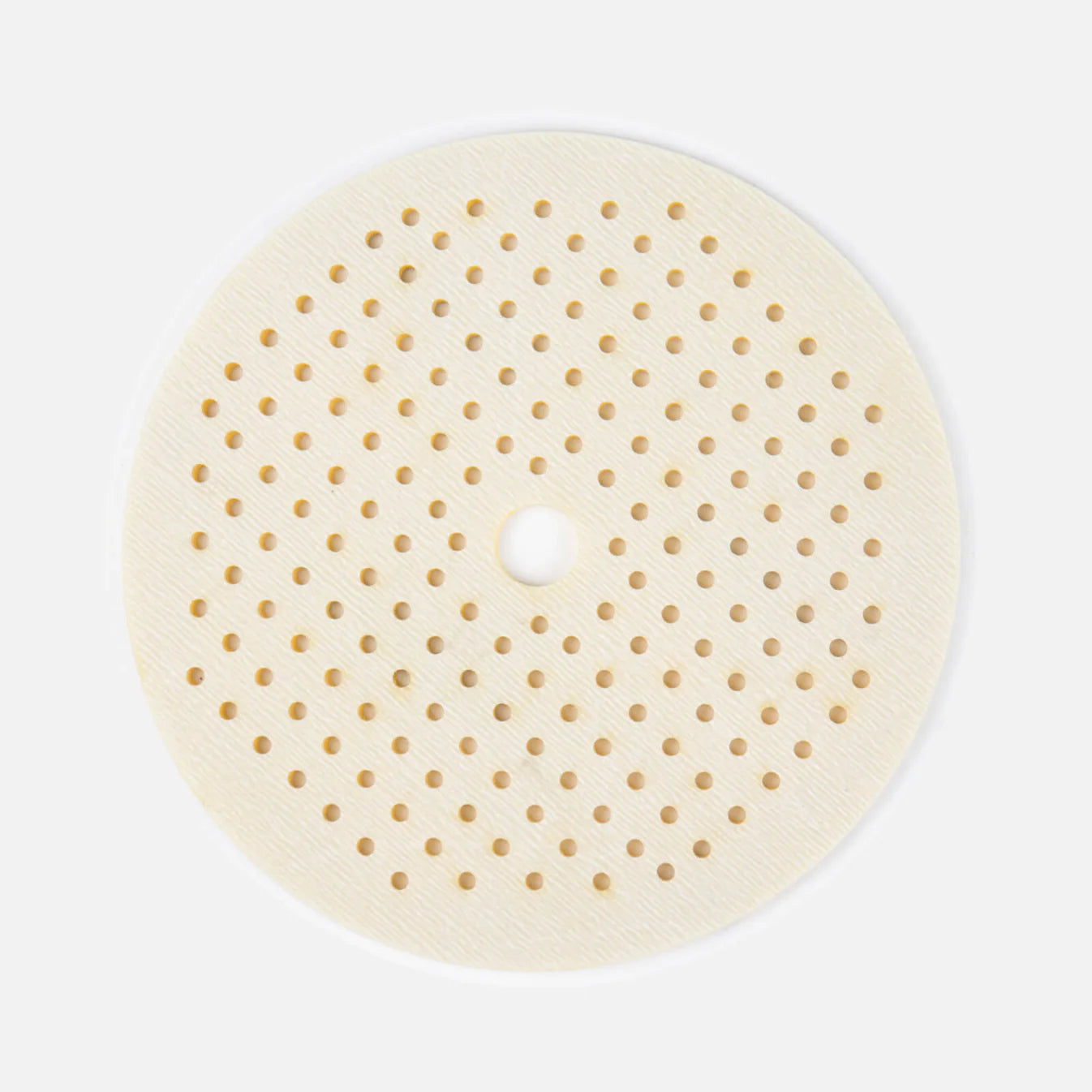 Fastplus™ FF12 Foam Film Discs for Car Sanding, Polishing, and Finishing
Fastplus™ Foam Film Sanding Disc FF12 is an innovative integration of a flexible film sanding disc and soft foam backing pad, the foam disc delivers super soft and flexible sanding, polishing, and buffing results for fine finishing.

FF12 foam film disc is coated with premium silicon carbide grain and attached to a foam structure that works excellently on curved and contoured surfaces and wet/dry sanding applications. The superfine foam disc can be used to sand and polish treated surfaces simultaneously, greatly reducing time and polishing compounds.

The foam film sanding disc comes with 181 perforated vacuum holes for dust collection which is compatible with all orbital sanders and backing pads and reduces dust from dry sanding or polishing.

How to Use FF12 Foam Discs

• Before painting: final sanding of filler, producing a matte finish, blending base and clear coat
• After painting: removing dust inclusions, removing paint runs, removing orange peel effect
• Varnish: fixing errors on high gloss surfaces
• Curved Parts: buffing up curved surfaces
• Solid Surfaces: polishing mineral and solid surfaces
Innovative Foam Film Disc for Car Polishing
• Integration of flexible film disc with soft foam
• Silicon Carbide grain, durable
• Multi-hole pattern for better dust extraction
• Hook-and-loop system, easy to changeover
• Soft and confortable while sanding and polishing
• Reduce time on compound polishing
• Ideal for wet/dry car sanding, polishing, finishing
Versatile Sanding or Polishing for Autobody
• Fit for all orbital sanders
• Suitable for fine sanding to high-gloss polishing
• Super flexible for contour or curved surfaces
• Wildly used in car buffing and finishing
Funktionierte hervorragend
Ich habe damit eine frisch lackierte Autoplatte geschnitten, und es hat wunderbar funktioniert.
Sehr effektiv.
Ich habe es benutzt, um Kratzer von meinem Auto zu entfernen, und es hat gut funktioniert. Ich glaube, ich kann es noch viele Male verwenden.
Wir freuen uns, dass Ihnen unsere Produkte gefallen, und danken Ihnen für Ihre Unterstützung bei Fastplus.
Excellent quality
Great product and works well for my project needs. More specifically, I needed a product for wet sanding my airbrushed plastic model cars and need super fine grit with wet sand capability. The value is great.
Sehr überrascht
Die Qualität ist definitiv vorhanden. Großartig zum Schleifen mit Exzenterschleifern, nass oder trocken.